STARTING DATE:

2016/09/19

APPLICATIONS DUE:

2016/09/02
The aim of this course is to provide participants with an understanding of the role played by intergovernmental fiscal arrangements in shaping public service outcomes in countries around the world, especially developing countries and emerging economies. Issues of accountability and autonomy will be examined to highlight important trade-offs and synergies that are at the centre of the NEXUS approach to the management of water, soil and waste. Specific topics include: trends in political decentralisation and the role of public budgets and local governments in supporting the delivery of public services.
"I am glad to take the course: useful book, possibility to provide any ideas and proposals and to communicate with the tutor and participants."
(2015 course participant)
---
Background
The United Nations University (UNU) was established in 1973 and currently encompasses 13 Research Institutes and Programmes located in 12 countries around the world. Through a problem-oriented and transdisciplinary approach, UNU targets policy-relevant research, education and capacity development that aims to develop sustainable solutions to pressing global problems of human survival and development.
The United Nations University Institute for the Integrated Management of Material Fluxes and of Resources (UNU-FLORES) offers online courses that are hosted on the Blended Learning Platform. These online courses will be integrated into the Nexus Observatory, a flagship initiative of the institute. The Nexus Observatory will serve as an online platform for consolidating and translating science into relevant information and evidence, which will empower decision makers to develop strategies, policies as well as environmental resources management planning and implementation frameworks.
Brochure: Nexus Observatory (Online Courses)
Objective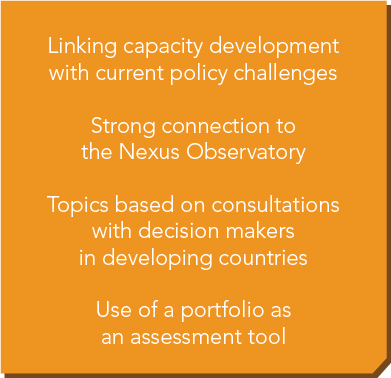 The main objective of online courses hosted on the Blended Learning Platform, is to provide decision makers, practitioners and students with an interest in the planning and management of environmental resources with access to relevant knowledge. Participants anywhere in the world are able to address capacity development needs, learn at their own convenience and develop new skills on how to apply the acquired knowledge in practice.
The UNU-FLORES online course programme took place for the first time in 2015. Participants came from all parts of the world and sectors:
About the Programme
In 2016, three online courses considering the NEXUS approach from different methodological perspectives will be delivered through the Blended Learning Platform. UNU-FLORES online courses run for a period of 12 weeks (study load: 130 hours) and are divided into three modules with three lectures per module. In addition to lecture videos, course participants will be provided with a complementary textbook.
Throughout the online course, participants will prepare four assignments (see the Blended Learning Platform Brochure for more information) that will form a portfolio. The portfolio serves as a testimony of participants' learning. Upon successful completion (having received at least a pass grade for all assignments), participants will be awarded a certificate at the end of the course. No certificates of participation will be issued.