DATE / TIME:

2016/08/28

Location:

Stockholm, Sweden
World Water Week in Stockholm, organized by SIWI, is the annual focal point for global water issues. The 2016 theme is Water for Sustainable Growth. Experts, practitioners, decision-makers, business innovators and young professionals from a range of sectors and countries will meet to network, exchange ideas, foster new thinking and develop solutions to the most pressing water-related challenges of today.
UNU-FLORES will convene and participate in two sessions, and launch our latest book Safe Use of Wastewater in Agriculture. All these activities are taking place on Sunday, 28 August 2016. For more details, read on. You can also follow along via Twitter using #UNU4Water and #4WastewaterReuse.
---
Seminar
Wastewater Reuse for Enhanced Food and Non-Food Value Chains
28 August 2016, 11:00–12:30, Stockholm City Conference Centre, NL Music Hall / Musiksalen
The seminar will address the safe use of wastewater in multifunctional land-use systems in Sub-Saharan Africa for producing food and non-food biomass. It will explore how a Nexus Approach to managing water, soil and waste contributes to achieving interrelated Sustainable Development Goals. The objective is to understand the necessary conditions and enabling mechanisms of safe wastewater use that can lead to improved soil productivity and enhanced food and non-food value chains.
Each representing a different perspective, speakers will give a short thought statement.
The audience will play a major role in this seminar. Participants are encouraged to share their views, experiences and questions during the following discussion, mainly by using Twitter.
Convenors
Deutsches Institut für Entwicklungspolitik (DIE)
Food and Agriculture Organization of the United Nations (FAO)
United Nations Environment Programme (UNEP)
United Nations University – Institute for Integrated Management of Material Fluxes and of Resources (UNU-FLORES)
Center for Environmental Systems Research (CESR)
Moderator
Eduardo Mansur, FAO
Speakers
Wastewater reuse as opportunity to boost agricultural production
Marlos de Souza, FAO
Wastewater production and availability: trends and knowledge gaps
Martina Flörke, CESR
Incentives for and obstacles towards wastewater treatment and reuse in developing countries
Ines Dombrowsky, DIE
Wastewater reuse for protecting natural water resources
Birguy Lamizana, UNEP
Wastewater reuse in multifunctional land-use systems promotes water, energy and food security
Tamara Avellán, UNU-FLORES
---
Book Launch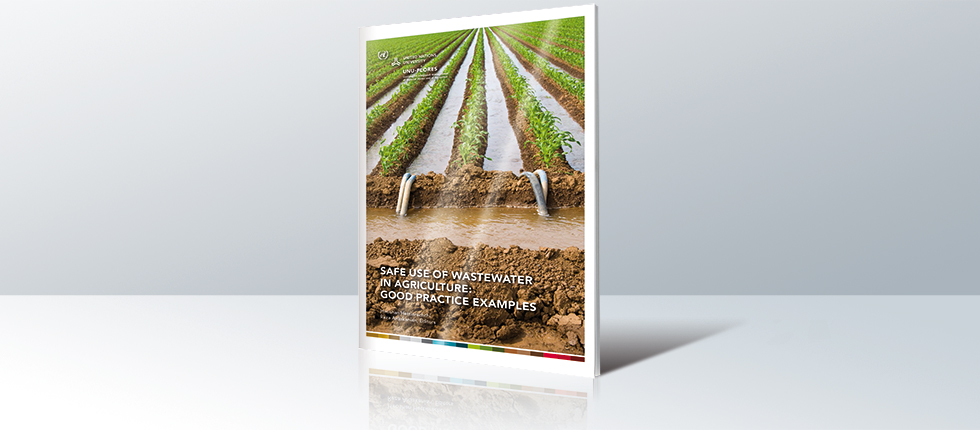 Safe Use of Wastewater in Agriculture: Good Practice Examples
28 August 2016, 12:30–14:00, Stockholm City Conference Centre, United Nations University (UNU-FLORES), Exhibition Area / Stand #35
Join us at the United Nations University Stand (#35) in the Exhibition area for the launch of our newest book! Lunch Reception
This event is open to all World Water Week attendees and light refreshments will be provided.
Wastewater management provides one of the best natural examples to demonstrate the usefulness of the Nexus Approach to managing water, soil, and waste. This book is an attempt to share what UNU-FLORES has learned from looking at examples across the globe on this subject. Seventeen interesting case studies gathered from around the world on wastewater reuse in agriculture are presented in this book. All cases provide first-hand information as they have been authored by the experts who implemented these cases or monitored the progress of them closely for years. The material is presented in three sections to improve readability. Section I presents five cases covering Technological Advances. Section II is dedicated for Health & Environmental Aspects and presents another five unique cases. With seven cases, Section III of the book provides a useful discussion on Policy & Implementation Issues.
Editors
Hiroshan Hettiarachchi
Reza Ardakanian
---
Seminar
Using Wastewater Efficiently to Protect the Environment and Combat Poverty
28 August 2016, 14:00–15:30, Stockholm City Conference Centre, NL 461
This event will highlight the value of wastewater as a resource for food production (irrigation, fertilization), employment and electricity generation. It will also focus on the role of wastewater in implementing IWRM approaches in developing countries, as well as in contributing to the implementation of the SDG 6, target 6.3. By bringing together actors working on wastewater related demonstration projects implemented by a wide range of agencies and involving different sectors of activities around the world, we are hoping to create new synergies, partnerships and avenues for exchange of experiences.
Speakers
Introduction
World Water Assessment Programme
Case Studies
Cabo Verde, IWRM AIO SIDS Project
Mauritius, IWRM AIO SIDS Project
Georgia and Morocco, UNEP's Global Wastewater Initiative
Education and Research
UNU-FLORES