DATE / TIME:

2019/05/03 15:30 - 17:00

Location:

Bonn, Germany
Co-Organisers: UNU-FLORES and the City of Dresden
---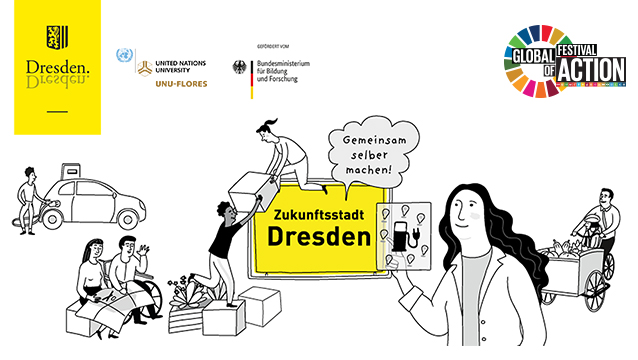 Speakers
The session will address the following challenges: How to mobilise people and city administration officials to transform their city into a sustainable city? What do cities need from authorities to start similar processes?
The session is based on the example of the FUTURE CITY process – a BMBF city competition with the goal to plan, create, and implement real laboratories by citizens, that should transform the city into a sustainable future city. In an interactive workshop setting, participants will collect ideas to support approaches to develop other (future) cities.
Participants will have the opportunity to learn about Dresden's experience as a future city project, create new contacts and connections, and explore how to apply what they learn here to city projects in their own context, and how to start a similar process.
This workshop will offer participants the opportunity to experience a similar workshop setting that was carried out during the FUTURE CITY DRESDEN process.
---
Background
The SDG Global Festival of Action is is a groundbreaking event, positioned to gather and inspire SDGs campaigners and multi-stakeholder partners to scale up and broaden the global movement to take action for the SDGs.
Taking place in Bonn every year, the Festival provides a dynamic and interactive space to showcase the latest innovations, tools, and approaches to SDG advocacy and action.
It brings together leaders from governments, local authorities, international organisations, civil society, activists, young advocates, the creative industry, and the private sector – to scale up the impact of their work and strategise joint actions, whilst motivating new organisations and individuals to join the movement and take action for the SDGs.
---
Related Website:
Event website
Zukunftsstadt Dresden