DATE / TIME:

2022/12/06 - 2022/12/03

Location:

Hybrid
The UN-Water Summit on Groundwater will be the culmination of the "Groundwater: making the invisible visible" campaign , implemented throughout 2022, coordinated by UNESCO and International Groundwater Resources Assessment Centre (IGRAC), on behalf of UN-Water.
Main messages from the Summit will be conveyed to the UN 2023 Water Conference to be held in New York in March 2023, with the aim of raising the crucial importance of groundwater.
Speakers
Michela Miletto, UNESCO, Coordinator, UNESCO World Water Assessment Programme

Abou Amani, UNESCO Division of Water Sciences and Secretary of the Intergovernmental Hydrological Programme (IHP), Director

Rashid Mbaziira, AMCOW, Executive Secretary
Tanja Miskova, Ministry of Foreign Affairs of Slovenia, Ambassador-at-Large for Water Diplomacy
Amb. Dr. Mary M. Khimulu, UNESCO MOST IGC, President
Youngchul Son, K-water (Korea Water Resources Corporation), General Manager
Obinna Richfield Anah, AMCOW
Winston Shaw, Senior Director for Technology, Training and Technical Information Division, Rural Agricultural Development Authority, Jamaica
Liseth Hernandez, Secretary Plan Trifinio
Konstantina Toli, FAO, GEF International Waters Specialist
Dahae Ellie Park, UNESCO i-WSSM, Senior Programme Specialist
Yujeong Kim, UNOSD, Senior Sustainable Development Officer
Sabina Khatri, UNU-FLORES, MoEWRI, RWSN, GWYN, Visiting Scholar, Hydrogeologist
Serena Caucci, UNU-FLORES, Associate Programme Officer
Laura Imburgia, UNESCO WWAP, Senior Water and Gender Program Specialist
William Reidhead, UN-Water, UN-Water
Background on the Session:
Groundwater provides half of the drinking water worldwide and plays an increasingly important role in the face of growing water scarcity, fueled by climate change and socio-economic and demographic trends. Just as it is the case with surface water, women's roles in groundwater access and usage, and their contributions to groundwater management are usually undervalued and under-recognized. Women (and other groups such as youth and differently abled people) are critically underrepresented in water-related institutions and programmes, leading to a sharp gender gap in governance, employment, knowledge, and economic opportunities. Urgent and concrete actions are needed to highlight and effectively address gender inequalities in groundwater.
This side event will showcase the work of the WWAP-led Global Multi-Stakeholders Coalition to accelerate progress towards gender equality in water with focus on solutions and good practices. It will also discuss the formulation of a joint strategy by the Multi-stakeholder Coalition that fits within the Water Action Agenda for the UN 2023 Water Conference. The session builds on the outcomes of the African Regional Consultations (Addis Ababa, June 2022) and paves the way for integrated educational programmes, promoting gender equality among future water leaders.
The event will feature messages from 'water and gender advocates' supporting the WWAP Call for Action Initiative, followed by presentations of actions by the co-conveners: AMCOW, UNESCO IWSSM / UNOSD, and UNU-FLORES. A focus on practical tools and best practices will trigger a participatory discussion with the audience and panelists to develop a joint proposal for the UN 2023 Water Conference.
The Programme for this session is available here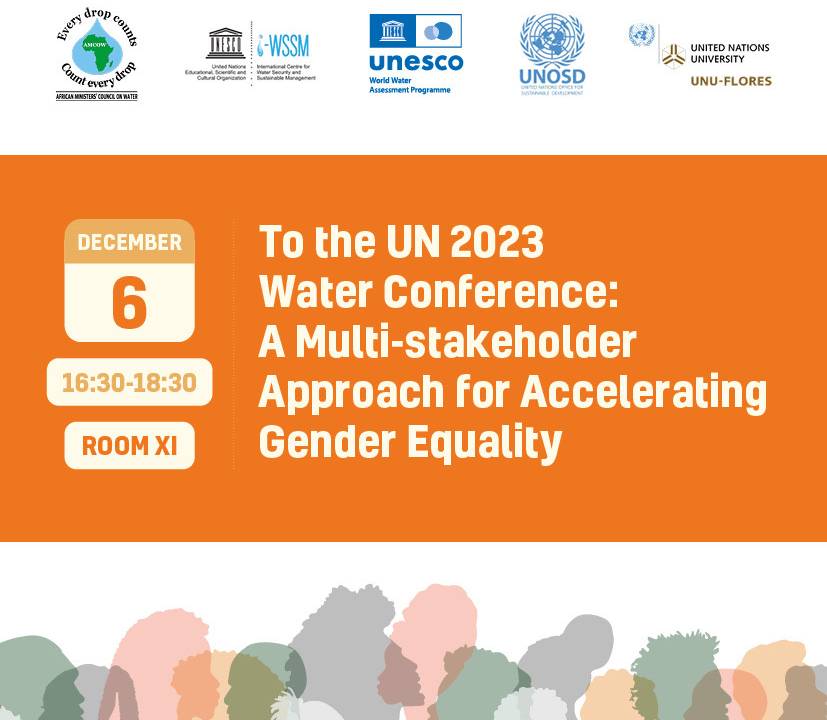 .