DATE / TIME:

2016/10/31 14:00 - 16:00

Location:

Dresden, Germany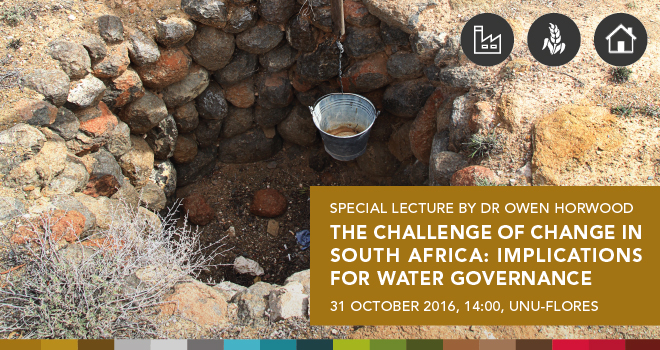 While there is growing global concern about freshwater resources against the backdrop of climate change, developing countries in particular face complex challenges in realising effective water governance. Based on principles of decentralisation, many policy-makers and practitioners alike have advocated managing water at the level of river basins and increasing stakeholder participation. This emphasis has led to reforms in a number of countries, focussing on new national policies, instruments and institutions. These reforms are often complicated and problematic, posing profound political and institutional challenges, not least because river basin boundaries seldom coincide with administrative boundaries. Substantive stakeholder participation has proven elusive to achieve in practice, as participation is usually little more than token consultation. Of special interest in this regard are the dynamics of knowledge production, dissemination and application. The role and influence of knowledge is important because differential access to and use of knowledge either empowers or marginalises certain stakeholders. This has significant implications for decision-making at basin level and the promotion of more adaptive, innovative and cooperative co-learning between water users.
South Africa has been the focus of my research. The country is generally water-stressed and is characterised by mounting competition between agricultural, domestic and industrial sectors, as well as serious environmental issues. It therefore represents an informative study area for examining how water sector reform frameworks are being translated into practice – and what the major stumbling blocks are in terms of advancing social and economic well-being without compromising the sustainability of vital ecosystems. My presentation draws on extensive engagement with various stakeholders.
---
Dr Owen Horwood
is committed to his country's future and the upliftment of all its people, whilst ensuring the long-term sustainability of natural resources, particularly water, as the southern African region is experiencing ever growing pressure on this vital resource. To this end, he has focused his research on issues regarding water sector reform in South Africa, with emphasis on stakeholder participation and institutional functionality. His PhD at Oxford University addressed the challenges of implementing national water policy particularly from a governance perspective – in line with international thinking and best practice pertaining to the promotion of integrated water resource management. In addition to his doctorate, Horwood holds two masters degrees from Oxford as a Rhodes scholar, the first in Environmental Change and Management and the second in Water Science, Policy and Management, as well as a third masters degree in Chemistry from the University of the Witwatersrand. His scientific contribution at Wits was awarded the SA Chemical Institute's James Moir Medal, the Merck Gold Medal for Interdisciplinary Excellence and the S2A3 Medal from the South African Association for the Advancement of Science, amongst other accolades. He has the seldom-found ability to easily move between the sciences and humanities.
Dr Horwood has received widespread recognition for his work and has visited universities and research institutes in various countries; including a Green Talents fellowship at the Heidelberg University Centre for the Environment on behalf of the German Federal Ministry of Education and Research (BMBF). He presented at the landmark 2012 Planet Under Pressure conference in London and the 2013 Water in the Anthropocene: Challenges for Science and Governance conference in Bonn, organised by the Global Water System Project (GWSP). He also participated in the German – South African Year of Science collaboration. The UN University Institute for the Advanced Study of Sustainability (in conjunction with ProSPER.Net) subsequently invited him to lecture at the Gadjah Mada University in Yogyakarta, Indonesia. He currently serves on the Environmental Appeals Advisory Panel to the Gauteng Provincial Government as well as the Research Advisory Committee for Natural Resource Management Programmes, South African National Biodiversity Institute. Horwood's career has enabled him to engage with a broad range of role-players including prominent academics, business leaders, government representatives and expert practitioners. He considers such interaction and knowledge exchange internationally as vitally important in building more durable science-policy partnerships between developed and developing countries to address present and future sustainability challenges.