DATE / TIME:

2021/07/24 18:00 - 22:00

Location:

Dresden, Germany
Co-organisers: UNU-FLORES, Technische Sammlungen Dresden (TSD)
---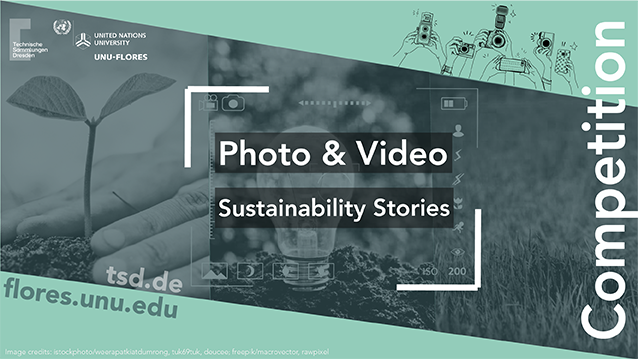 Design: UNU-FLORES/Muhan Liu
On 24 July 2021, during Museums Night Dresden 2021, Prof. Edeltraud Guenther (UNU-FLORES), Roland Schwarz (Technische Sammlungen Dresden) and Andreas Völlings (Saxon State Ministry for Energy, Climate Protection, Environment and Agriculture (SMEKUL)) inaugurate the special exhibition "Sustainability Stories".
In March 2021, UNU-FLORES and Technische Sammlungen Dresden called on professional and amateur photographers and videographers to advocate for the Resource Nexus and sustainability through a photo and video storytelling contest. The competition successfully received over 400 photos and 25 videos submissions from almost 40 countries around the world.
The shortlisted photo and video entries will be displayed in the Sustainability Stories – Special Exhibition (Sonderausstellung) from 24 July 2021 to 26 September 2021. This exhibition also forms part of the Umundu Festival.
Shortlisted photos and videos, including winning submissions, will be displayed as part of the Wolke 8. The Climate and Us permanent exhibition at Technische Sammlungen Dresden.
The "Sustainability Stories" initiative is supported by SMEKUL.
---
Related Links:
Sustainability Stories – Special Exhibition
Museum Night Dresden 2021
Digital exhibition