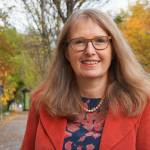 Prof. Edeltraud Guenther is a globally recognised expert in environmental management and sustainability assessment. She assumed the position of Director of the United Nations University Institute for Integrated Management of Material Fluxes and of Resources (UNU-FLORES) in Dresden, Germany on 1 September 2018.
Prof. Guenther's research focuses on sustainability management, environmental accounting, and management control systems, with an emphasis on corporate responsibility, life cycle assessment, resilience, and sustainability assessment. As UNU-FLORES Director, Prof. Guenther is a vocal advocate for "Advancing the Resource Nexus", which is also reflected in the Institute's mission to create meaningful impact across the scientific landscape, and to champion the Resource Nexus as a vital scientific perspective.
As part of strengthening the connections between UNU-FLORES and the wider United Nations network, Prof. Guenther was also one of the establishing Directors and the first Chair for UNU Water Network, which was initiated in 2019. In 2020, she was appointed UNU Senior Official for the Environmental Management Group (EMG).
Prof. Guenther received her doctorate in Environmental Accounting from the University of Augsburg and has held the position of Chair of Business Management, Sustainability Management and Environmental Accounting, at the Faculty of Business and Economics at Technische Universität Dresden (TU Dresden) since 1996.
For more on Prof. Guenther's background, see her full profile.
About the series
The BIG IDEAS: SDGs Dialogue Series introduces the people, projects, and organisations behind shared efforts to achieve the Sustainable Development Goals (SDGs). Each event features leading representatives and researchers from international organisations, UN agencies, and UNU institutes to stimulate discussion on sustainable development issues and initiatives. The events provide a unique opportunity for young researchers, graduate students, and civil society to become more familiar with SDG-related topics, ask questions, and learn how they can contribute to local and global SDG progress.