DATE / TIME:

2023/05/05 10:30 - 2023/05/03 12:00
The apparel and textile sector is one of the largest industries in the world and is highly relevant to multiple United Nations Sustainability Goals, such as Gender Equality (5) and Decent Work (8) for the millions of people working in textile and garment factories to the responsibility of brands and buyers to adhere to the principles of Sustainable Consumption and Production (12). Although globalisation and an increased interdependence between countries all over the world has led to greater cooperation, opportunities and development, the impact on global production and consumption has left many millions of people behind: in low paid jobs, in unhealthy – and sometimes even dangerous – environments, and with little power to demand that employers uphold commitments to human rights.
Everyone should have access to full employment and decent work, without fear of insecurity, exclusion and inequality – and the fashion industry is no exception.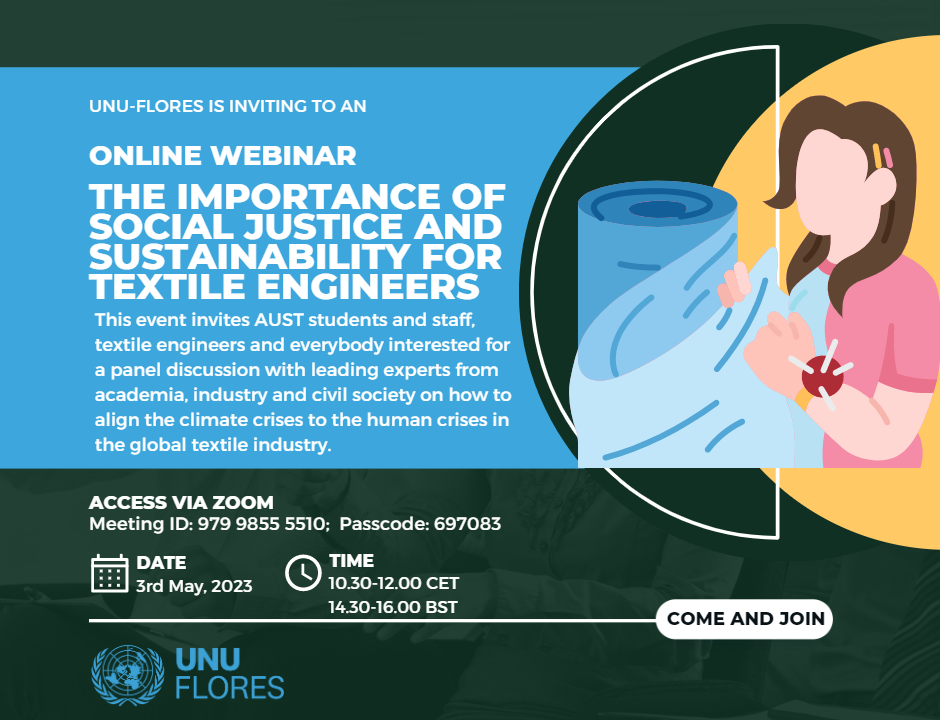 The Ready-Made Garment (RMG) Sector and social sustainability has become a hot topic in many countries, with consumers and manufacturers alike becoming more conscious of its negative connotations. The good news is that ethical practices in the production, selling and buying of garments has been done and can be scaled. The fashion industry has a real opportunity to promote justice for both people and the planet.
This Webinar invites AUST students and staff, textile engineers and all interested to attend a panel discussion with leading experts from academia, industry, and civil society on how to align the climate crises to the human crises in the global textile industry.
You can join this event via this link: https://unu-edu.zoom.us/j/97998555510?pwd=VUFMeDNjWm5YazZHd2cvUndPYW5rZz09
Meeting ID: 979 9855 5510
Passcode: 697083
About this Event:
The panel intends to highlight the importance of 'social sustainability' for textile engineering students, who traditionally focus on technical aspects of textile manufacturing whereas social sustainability issues are regarded as a separate or CSR-specific topic. Perspectives from experts are included to share practical and good examples of industry practices.
This panel is the first of a two-part discussion series. The second panel will be scheduled around June 2023 and will focus only on the 'environmental' aspect of textile engineering.
Speakers will include:
Co-conveners:
Panelists:
Background:
The event is organised under the Chair for Sustainability and Innovation Textiles Project at UNU-FLORES, which seeks to strengthen the textile engineering curricula, teaching methods and material, and the quality of research at Ahsanullah University of Science and Technology (AUST) in Bangladesh, one of the global epicentres of textile production.