DATE / TIME:

2023/09/06 09:00 - 2023/09/07 18:00

Location:

Dresden, Germany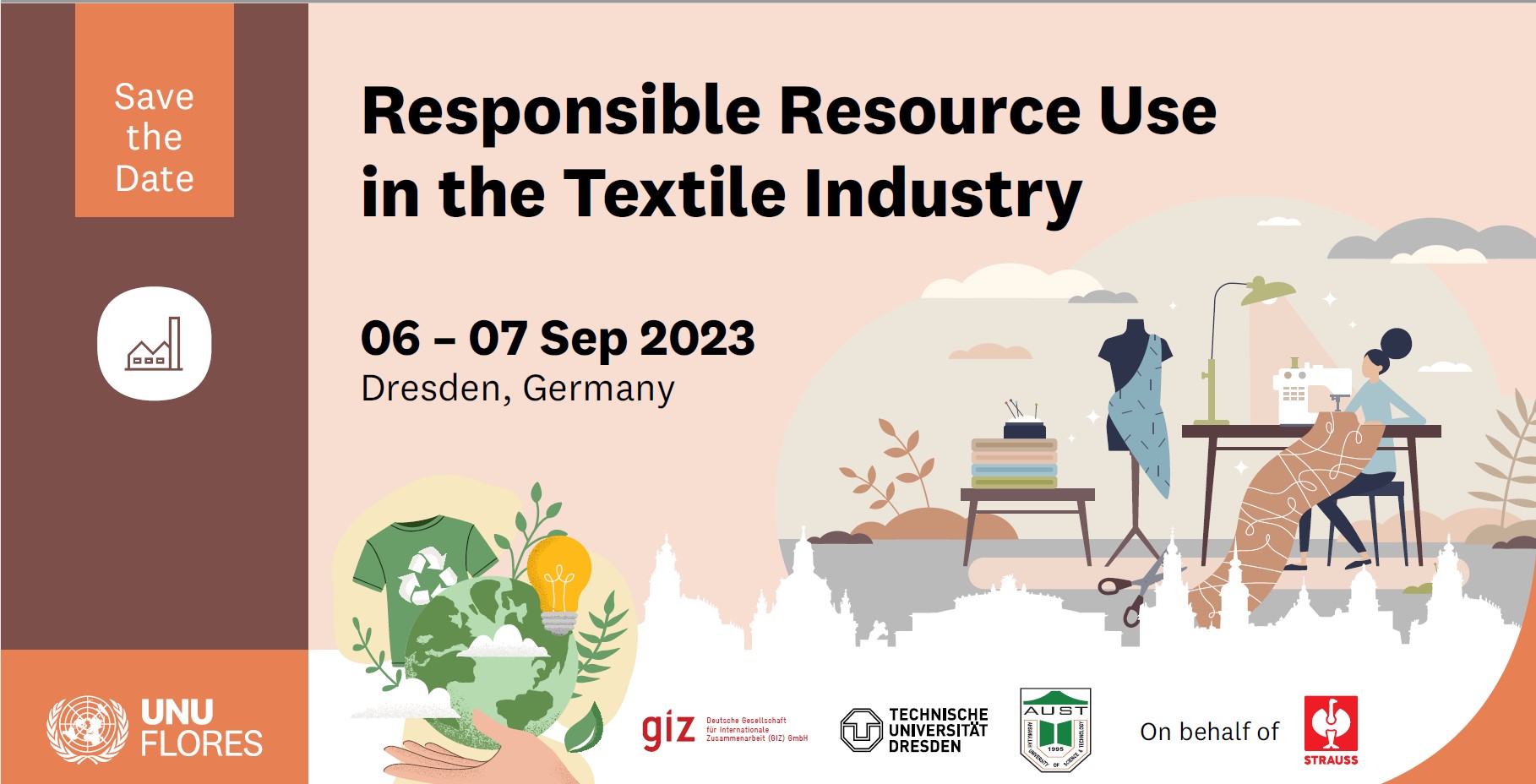 The Textile Symposium will bring together representatives from academia, industry, international organisations, and government from Germany, Bangladesh, and beyond. In a forum, we will discuss the challenges and best practices, as well as sustainable and innovative solutions pertaining to the responsible use of resources in the textile sector along the supply chains of the Global North and South, and to facilitate a global platform for open exchange on this highly relevant topic. In gathering experts from diverse backgrounds, we aim to stimulate a change in global mindsets, and to identify the key issues that impact policy recommendations by ensuring global equity and the responsible use of resources in the textile sector. This event will contribute to the definition of future research agendas for newly developed institutions in the Global North and Global South, to drive change together.
UNU-FLORES is inviting you to register and will review all incoming registrations as they are received. This event is free of charge, thanks to the generous support of our industry sponsor. Download the full event agenda here. 
Event Overview
Welcoming Remarks
Keynotes
Dr Robert Reinhardt, Sustainable Business & Strategy Consultant, UNEP
Friederike Hoppe, Sustainability Team, Engelbert Strauss
Representatives and Experts from:
UNU-FLORES
TU Dresden
AUST
SOEX
TU Chemnitz
STFI
Sachsen-Leinen e.V.
Vaude
Eco Fresh Agro
University of Applied Science Niederrhein
Drip by Drip
Pfand Textilveredelung GmbH
Eeaser
…and more!
The Textile Symposium shall include the following themes, in adherence to the Sustainable Development Goals (SDGs):
Process & Materials to Reduce Water & Chemical Consumption (SDG 3, 6)
Sustainability Assessment and the Resource Nexus (SDG 7, 9, 11)
Nature & Textile Industry (SDG 2, 14, 15)
Social Sustainability & Responsibility (SDG 1, 5, 8)
Promoting Circular Economy with Joint Efforts (SDG 12, 16, 17)
We will provide an exciting variety of academic inputs and panel discussions; bringing together to hear the voices of a wide range of different stakeholders. The overall programme implementation and sessions are supported by .Franziska Stölzel (UNU-FLORES) the co-conveners from UNU-FLORES, and Yu-Shan Lin Feuer (TU Dresden).
Additionally, a workshop on Sustainability Transition (SDG 4, 10, 13) will be held during the event. More information will be shared shortly.
Co-Conveners:
Christina Froemder, Associate Programme Officer, UNU-FLORES
Lavinia Muth, Consultant, UNU-FLORES
Kamol Gomes, Doctoral Student at UNU-FLORES/ TU Dresden
Event Background
The Textile Symposium is a sustainability nexus community event organised by UNU-FLORES as part of the Chair for Sustainability & Textile Innovation – Phase 2 project, in collaboration with Ahsanullah University of Science and Technology (AUST) and the Technische Universität Dresden (TU Dresden). The Event is kindly supported by the Deutsche Gesellschaft für Internationale Zusammenarbeit (GIZ),  and funded by Engelbert Strauss.