DATE / TIME:

2021/11/23 09:00 - 17:15

Location:

Online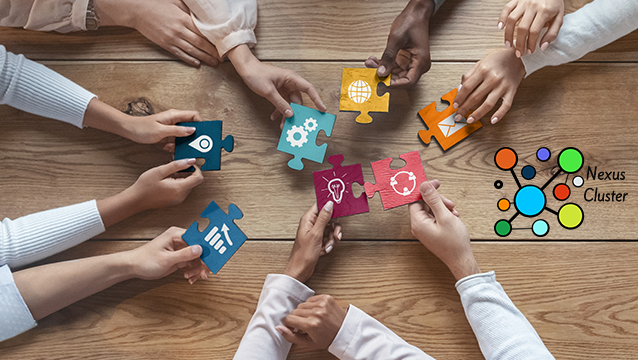 Image: iStockphoto/Prostock-Studio
Organisers: UNU-FLORES, Nexus Project Cluster
---
Speakers
Serena Caucci (UNU-FLORES)
Chrysi Laspidou (University of Thessaly)
Manuel Pulido-Velazquez (Universitat Politècnica de València, UPV)
José González Piqueras (University of Castilla-La Mancha, UCLM)
Janez Sušnik (IHE Delft Institute for Water Education)
Manuel Valiente Malmagro (Universitat Autonoma de Barcelona, UAB)
Maria Vrachioli (Technical University of Munich)
Andrea Castelletti (Politecnico di Milano)
Sanaa Zebakh (Institut Agronomique et Vétérinaire Hassan II – Morocco)
Phoebe Koundouri (Athens University of Economics and Business, SDSN Europe)
Aline Mosnier (Sustainable Development Solutions Network)
Rafael Casielles (BIOAZUL)
Lydia Vamvakeridou-Lyroudia (KWR Water)
Raül Glotzbach (KWR Water)
Tina Schmiers (GIZ)
Paul Webb (European Research Executive Agency, REA)
Panagiotis Balabanis (DG RTD.B1 Circular Economy & Biobased Systems)
Katja Klasinc (DG RTD.B1 Circular Economy & Biobased Systems)
Evdokia Achilleos (REA.B3 Biodiversity, Circular Economy and Environment)
Chairs
Floor Brouwer (Wageningen Research/UNU-FLORES)

Serena Caucci (UNU-FLORES)

Tamara Avellán (University of Oulu)

Pia Laborgne (EIfER)

Maria Vrachioli (Technical University of Munich)
The objective of the virtual workshop is to update participants on recent Nexus Cluster initiatives. Projects that have started in the previous year will be presented, and emerging nexus-related research topics introduced and discussed.
The workshop will provide a platform for high-level interaction and project groups to exchange their experiences. Additional discussion points include the Nexus in the context of relevant policy domains in the European Union, e.g., the Green Deal, European Climate Action, Biodiversity Strategy and the Farm to Fork Strategy under the framework of Horizon Europe.
The workshop aims to bring together partners and interested individuals and groups from different fields to engage in innovative discussions and gather input and feedback. The workshop's ambition is to provide a forward-looking approach to bring more focus and coherence to the knowledge activities of the Nexus Cluster arising at the science-policy interface.
The Workshop is organised by the Steering Committee of the Nexus Project Cluster in consultation with the European Research and Executive Agency (REA) of the European Commission.
The Steering Committee is represented by Wageningen Research (NL), Athens University of Economics and Business (EL), Avellan Cecilia (DE), Cranfield University (UK), European Institute for Energy Research (EIfER) (DE), KWR Water (NL), Technical University of Munich (DE), University of Thessaly (EL) and UNU – Institute for Integrated Management of Material Fluxes and of Resources (UNU-FLORES) (DE).
Click here for the agenda.
---
Background
The Nexus Project Cluster, initiated in 2018, is a group of independent research initiatives that team up to increase communication and dissemination of the Nexus to create a more significant impact.
Activities of the Cluster are linked to fields of water, energy, food, land and climate, and also address important societal challenges like public health and rural-urban development.
Since its launch in 2018 the Cluster has conducted various activities, including three successful events which promoted knowledge sharing through the exchange of methodologies, approaches and tools.
The "Resource Nexus Policy & Cluster Workshop" organised by the Cluster in November 2018 brought together EU-funded Nexus related projects and initiatives to stimulate peer-to-peer and science-to-policy discussions to advance nexus research for the benefit of society and policymaking.
The second workshop, "Methods, Tools, and Data for Policy Support on the Nexus", took place in October 2019, showcasing the achievements from research in defining the "Nexus". It included the development of methods as well as the use of tools and available data.
Finally, the third event, "Towards a Nexus Knowledge Agenda – Contributions from the Social Sciences", touched upon the social science perspectives and identified its current state-of-play in nexus research and aimed to explore the gaps in current nexus discourses to establish more sustainable, equitable decisions and policies for the integrated governance of resources.
---
Related Links:
Nexus Project Cluster Workshop-Agenda