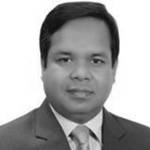 INSTITUTE:

UNU-FLORES

OFFICE:

UNU-FLORES, Ammonstrasse 74, Dresden, 01067, Germany

E-MAIL:

gomes@unu.edu

PHONE:

+49 351 7999 3813

NATIONALITY:

Bangladeshi
Research Interests
Conflict resolution
Environmental Resource Management
Sustainability
Water Resources Management
Education
Master of Philosophy, Conflict Management, University of Chittagong, Bangladesh (2016)
Master of Commerce, Management, University of Chittagong, Bangladesh (2000)
Bachelor of Commerce, National University, Bangladesh (1994)
Biographical Statement
Kamol Gomes is a Doctoral Researcher in the Joint PhD Programme in Integrated Management of Water, Soil, and Waste between Technische Universität Dresden and UNU-FLORES. He obtained the KAAD scholarship to pursue his full-time research in Germany. Passionate to help his nation address the environmental and social challenges it faces, Kamol's study focuses on water and wastewater management for sustainable textile industry development of Bangladesh.
Previously, Kamol was involved with a Research and Curriculum Development Project along with partner universities Ahsanullah University of Science & Technology (AUST) and TU Dresden. On behalf of Notre Dame University Bangladesh, he has also coordinated institutional activities under the 'Initiative for Global Development' at the University of Notre Dame, Indiana, USA.
Kamol has published a few articles in international journals. As part of his social involvement, he has been honoured as the Vice-Chairman (honorary) of the Corruption Counteraction Committee in Dhaka. He also served as President of the Young Men's Christian Association (YMCA) Dhaka for two terms (2007, 2008). He was actively involved as the honorary treasurer and the founding member of the central committee of 'Concerted Effort to Develop the Quality Education' in Dhaka City.