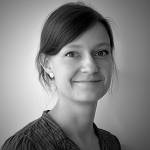 INSTITUTE:

UNU-FLORES

OFFICE:

UNU-FLORES, Ammonstrasse 74, Dresden, 01067, Germany

E-MAIL:

dziumla@unu.edu

PHONE:

+49 351 7999 3817

NATIONALITY:

German
Research Interests
Agricultural Development
Environmental Change & Sustainable Development
Sustainability
Sustainable urban development
Education
Master of Arts, Environment, Politics and Globalisation, King´s College London, UK (2013)
Bachelor of Arts, Media Management, University of Applied Sciences Mittweida, Germany (2012)
Appointments
Sustainability Coordinator, UNU-FLORES
Executive Associate, UNU-FLORES
Assistant for Marketing and Educational Guidance, HOGA Schulen
PR and Business Development, TerraCycle
Biographical Statement
As the UNU-FLORES Associate Sustainability Officer, Juliane is responsible for the institute's environmental inventory and sustainability performance. She also coordinates projects related to sustainable development and its regional implementation alongside a wide range of stakeholders.
In response to the success of the UNU-FLORES Green Committee, and the increasing uptake of sustainable strategies, the position of Sustainability Coordinator is one that UNU-FLORES has pioneered. As of 2019 the Institute has maintained carbon neutrality, and is acting as the pilot entity to implement the UN Sustainability Strategy across the United Nations University.
Juliane is passionate about sustainability and is dedicated to working towards a greener future. Prior to joining UNU-FLORES, she worked in the Business Development department of the recycling company, TerraCycle, where she produced business proposals for new recycling products, and then as a marketing assistant for HOGA Schools. In her role as an academic coordinator, Juliane led the UNU-FLORES/UNEP project on Sustainable Infrastructure in Chile. She is also conducting Doctoral Research in the field of innovative urban agriculture, as part of her study, Juliane focuses on Vertical Farming and its potential to support sustainable food production and assist in the delivery of the Sustainable Development Goals.