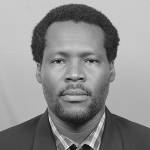 INSTITUTE:

UNU-FLORES

OFFICE:

UNU-FLORES, Ammonstrasse 74, Dresden, 01067, Germany

E-MAIL:

achilla@unu.edu

NATIONALITY:

Tanzanian
Research Interests
Climate and ecosytem change
Environmental policy planning and implementation
Natural Resources Management
Systems and flux analysis for resources management
Education
Master of Science, Natural Resources Assessment and Management, University of Dar es Salaam-Institute of Resources Assessment, Tanzania (2009)
Bachelor of Science, Urban and Regional Planning, University of Dar es Salaam-University College of Lands and Architectural Studies (UCLAS), Tanzania (2006)
Appointments
Senior Research Scientist in Natural Resources Assessment and Land Use Planning, NLUPC-Tanzania
Biographical Statement
Shadrack Stephene Achilla is a PhD candidate of the Joint PhD Programme in Integrated Management on Water, Soil, and Waste between Technische Universität Dresden and UNU-FLORES. Prior to joining UNU-FLORES, Shadrack has participated in designing and implementing several national and international projects and published on sustainable land resources use and management, climate change adaptations, biodiversity conservation, forestry, and wildlife management aspects in Tanzania. Such projects have attracted funding from both local and international organisations such as the World Bank, Denmark's development cooperation agency (DANIDA), the European Union (EU), and the Global Climate Change Alliance (GCCA). Some of his notable interventions are in the restoration of the Great Ruaha River Ecosystem which was degraded as a result of unsustainable agricultural practices, among others, and the establishment of the Tanzania Biodiversity Information Management Tool (BIMT) which provides a means of prioritising areas for plant conservation based on comprehensive and reliable biodiversity information.
Currently, Shadrack has expanded his focus to include issues such as the role of both traditional and modern natural resource use and management regimes to shape/define resource properties or yield, what role the social-ecological systems play in such interaction across diverse landscapes and land-use systems, and the implications of such interaction in relation to land-use practices and including but not limited to policy.
Shadrack is fascinated by the application of modern technologies and approaches in the analysis of the human-environment dynamics in the face of environmental, economic, and institutional changes over time.