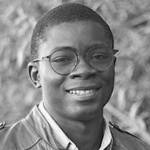 INSTITUTE:

UNU-FLORES

OFFICE:

UNU-FLORES, Ammonstrasse 74, Dresden, 01067, Germany

E-MAIL:

orousannou@unu.edu

PHONE:

+49 351 7999 3812

NATIONALITY:

Beninese
Research Interests
Climate Change
Population Studies
Social network analysis and complex adaptive systems theory
Sustainability Science
Education
Postgraduate Diploma, Environmental Management, Technische Universität Dresden, Germany (2018)
Master, Rural Economics and Sociology, University of Parakou, Benin (2018)
Bachelor, Rural Economics and Sociology, University of Parakou, Benin (2014)
Appointments
Data Fellow, United Nations Population Fund
Researcher, African Union Commission
Biographical Statement
Ramoudane Orou Sannou is a Doctoral Researcher in the Joint PhD Programme in Integrated Management of Water, Soil, and Waste between Technische Universität Dresden and UNU-FLORES. He is interested in providing research-based evidence to support the design of policies, programmes, and innovative projects that foster an egalitarian development process in the world, particularly in Africa. A versatile socioeconomist with strong analytical and quantitative skills, Ramoudane has research experiences in a variety of fields ranging from socioeconomic and environmental analyses to population studies, with a keen interest in the use of data science and network analysis to generate evidence for better decision-making.
Prior to joining UNU-FLORES, Ramoudane has worked as a UNFPA Population Data Fellow, where he supported the work of the UNFPA Country Office in Burkina Faso in strengthening and modernising the country's civil registration and vital statistics system. He previously worked as a Researcher for the African Union Commission and contributed to a better understanding of Africa's potential to harness the demographic dividends. Ramoudane holds a Public Management Certificate from the YALI Regional Leadership Center in Dakar, Senegal.
As part of his PhD, Ramoudane is conducting research to increase understanding on and measure the impacts of agricultural practices on the social dimension of sustainability.