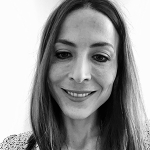 INSTITUTE:

UNU-FLORES

OFFICE:

UNU-FLORES, Ammonstrasse 74, Dresden, 01067, Germany

E-MAIL:

mendoza@unu.edu

NATIONALITY:

Mexican
Research Interests
Economic Development
Environmental and resource economics
Environmental Change & Sustainable Development
Innovation systems
Education
PhD in Innovation Systems for Sustainability Transformations, University of Hohenheim, Germany (ongoing)
Master in Public Policy, University of Erfurt, Germany (2011)
Bachelor in Economics, Universidad de Colima, Mexico (2008)
Appointments
Sustainability Coordinator, UNU-FLORES
Green Economy Expert, United Nations Environment Programme (UNEP)
Associate Adviser, Sustainable Development Strategies, International Trade Centre (UNCTAD/ WTO)
Biographical Statement
Elena Mendoza joined UNU-FLORES in 2021 as Sustainability Coordinator. As focal point for sustainability-related aspects at UNU-FLORES she acts as Chair of the Green Committee, supports the development and implementation of an institutional sustainability strategy, and the management of the environmental inventory. She acts as the institutional Focal Point in collaborations with the Sustainable United Nations (SUN) and supports the Senior Focal Point to the UN Environmental Management Group (EMG). She supports UNU-wide sustainability cooperation, aiming for a joint strategy integrating the 'Greening the Blue' campaign.
Prior to joining UNU-FLORES, Elena worked as Green Economy Expert at the Resources and Markets Branch of the UN Environment Programme (UNEP). She acted as UNEP focal point for the implementation of the activities of the Partnership for Action on Green Economy (PAGE), a one-UN initiative, encompassing UNEP, UNIDO, ILO, UNDP, and UNITAR.
Elena has work experience at the International Development Law Organisation (IDLO) as an Agriculture and Food Policy Expert and at the ITC – International Trade Centre as an Associate Adviser – Sustainable Development Strategies.