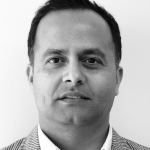 INSTITUTE:

UNU-FLORES

OFFICE:

UNU-FLORES, Ammonstrasse 74, Dresden, 01067, Germany

E-MAIL:

saroj@unu.edu

PHONE:

+49 351 8921 9379

NATIONALITY:

Nepali
Research Interests
Climate change adaptation
Environmental Change & Sustainable Development
Water Pollution
Water Resources Management
Education
PhD, Integrated River Basin Management, University of Yamanashi, Japan (2009)
MSc, Physical Land Resource Management, Ghent University, Belgium (2005)
BSc, Agriculture, Tribhuvan University, Nepal (2000)
Appointments
Lifetime full member, International Society for Development and Sustainability (ISDS)
Editorial board member, Ramkhamhaeng International Journal of Science and Technology, Ramkhamhaeng University, Thailand
Committee member, Research Ethics Committee (REC), UNU-IAS
Biographical Statement
Saroj Kumar Chapagain is an Associate Programme Officer (Sustainability Assessment) at UNU-FLORES. Prior to joining UNU-FLORES, Saroj was a Research Fellow at UNU-IAS, Tokyo, where he worked on Water for Sustainable Development (WSD), a multidisciplinary policy research project examining the role of water in society, economy, and the environment. Aside from the WSD, he also contributed to the teaching and student supervision of the UNU-IAS's Postgraduate Degree and Training Programme (PDT).
Saroj had previously worked as a Senior Research Specialist at the Asian Institute of Technology (AIT), Thailand on a Sustainable Decentralized Wastewater Systems (DEWATs) project supported by the Bill & Melinda Gates Foundation (BMGF). While working at AIT, he participated in reinventing innovative sanitation systems. Moreover, he served as an affiliated faculty member at AIT from April 2016 to December 2017.
Saroj worked as a postdoc researcher at the International Research Center for River Basin Environment (ICRE), University of Yamanashi, Japan; as a researcher/director at the Center of Research for Environment Energy and Water (CREEW), Nepal; and as a water monitoring expert at the Kathmandu Valley Water Supply Management Board (KVWSMB), Nepal. He has authored/co-authored dozens of papers appearing in international refereed journals and proceedings.
Further Information