2020/07/30 Dresden, Germany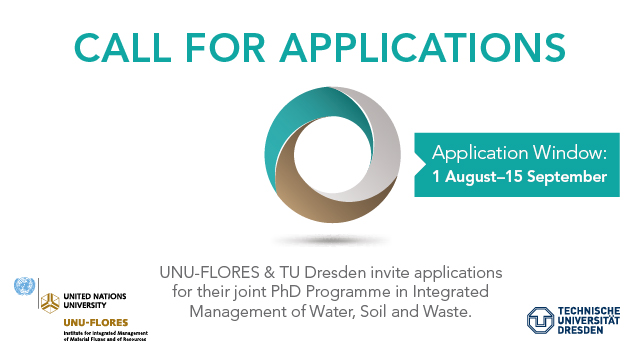 UNU-FLORES and the Technische Universität Dresden are accepting applications from graduates in engineering, social sciences, and natural sciences for their Joint PhD Programme in Integrated Management of Water, Soil, and Waste. The programme aims at creating a new generation of environmental scientists, engineers, and managers, to conduct, promote, and provide guidance on the resource nexus for all environmental resources: water, soil, waste, energy, and other geo-resources that are of concern to the United Nations and its Member States – particularly in developing and emerging economies.
In line with UNU-FLORES's research agenda, research topics for dissertations will be focused on solving current challenges related to the nexus of water, soil, waste, energy, and other geo-resources and contributing to the advancement of the 17 United Nations Sustainable Development Goals (SDGs).
Candidates should develop a short research proposal detailing their specific interests in the topic, the regional focus of their research, an indication of data availability, and so on. Due to the focus on integrated management of water, soil, waste, energy, and other geo-resources, the research topic could be relevant – but not exclusively – to:
The window for the current application period is 1 August to 15 September 2020.
Applicants who would like to apply for the yearly call for application are required to have secured third-party funding for the entire duration of the programme. Applicants who do not have secured funding are invited to visit our website on a regular basis as UNU-FLORES advertises special calls issued for PhD positions funded via specific third-party projects or other specific funding programmes. Self-funded students will not be accepted.
For further information on the overview of the Joint PhD Programme, including admissions criteria, application procedure, and general questions, please visit the PhD Programme page.