2019/07/29 Dresden, Germany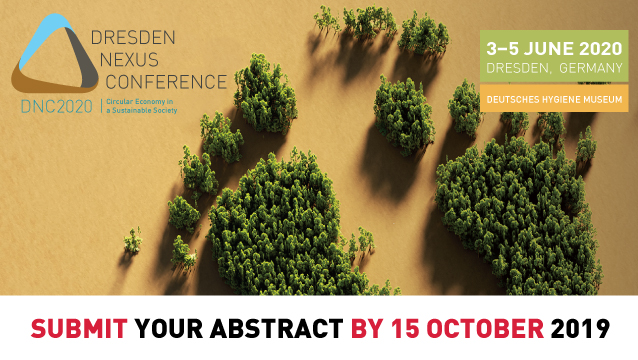 **DEADLINE HAS BEEN EXTENDED TO 15 OCTOBER 2019**
The third edition of the Dresden Nexus Conference (DNC2020) will take place 3–5 June 2020 in the heart of Saxony. DNC is a collaborative effort brought to you by the United Nations University (UNU-FLORES), the Technische Universität Dresden (TU Dresden), and the Leibniz Institute of Ecological Urban and Regional Development (IOER).
The Dresden Nexus Conference is an international conference series dedicated to advancing research and the implementation of a Nexus Approach to resource management. DNC2020 aims to accelerate the transition to a more sustainable economy by focusing on identifying and discussing the concepts that nexus thinking offers to support the transition towards a circular economy. For more information, you can find the concept note here.
DNC is a one-of-a-kind event, bringing together actors from academia, civil society, industry, and government from all over the world to discuss the sustainable management of environmental resources in Dresden. By bringing together actors from a diverse range of disciplines and sectors, DNC fosters dialogue on how nexus thinking contributes to achieving sustainable development for all. We encourage individuals from these sectors to submit abstracts under the theme "Circular Economy in a Sustainable Society".
The organisers welcome abstract submissions for poster and oral presentations, as well as World Café tables. View the Call for Abstracts for more information.
The deadline for submissions is 30 September 2019.
We look forward to receiving your submissions and to welcoming you to Dresden in June 2020!