2023/08/15 Dresden, Germany
We are absolutely thrilled to announce a remarkable achievement within our team!
Ramoudane Orou Sannou, one of our brilliant joint Doctoral Researchers, has been chosen as one of the top 16 Young Scientists for the prestigious World Food Forum (WFF), an initiative powered by the Food and Agriculture Organization (FAO). This is an incredible opportunity for Ramoudane to make a significant impact on sustainable development over the next two years – during which, Ramoudane will join forces with FAO experts, distinguished partners, and renowned academic networks to tackle vital agrifood-related topics.
The Young Scientist Group (YSG) has a noble mission – to empower the World Food Forum (WFF) with the most cutting-edge scientific evidence and technical knowledge, enabling the effective implementation of initiatives that will revolutionise agrifood systems in alignment with the Sustainable Development Goals (SDGs). Ramoudane and his fellow young scientists will be at the forefront of this transformative journey, with the 2023 YSG cohort consisting of 16 exceptional young minds hailing from around the world.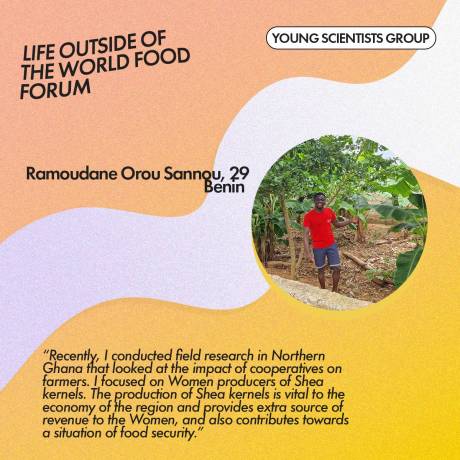 The Young Scientists are grouped based on the FAO Four Betters: Better Production, Better Life, Better Environment, and Better Nutrition. This organisation ensures a comprehensive and holistic approach to address the multifaceted challenges in transforming our agrifood systems towards achieving the Sustainable Development Goals (SDGs). Notably, Ramoudane will be a key contributor to the Better Life subgroup, which perfectly aligns with his passion for Social Sustainability in Agrifood systems, which he has been diligently exploring during his doctoral research at UNU-FLORES. While working in this subgroup, Ramoudane will collaborate with experts and visionaries in this field, and further shape his trajectory as a promising agent of change. He will also play a vital role in crafting a biannual WFF Young Scientists report, focusing on specific policy issues related to the transformative journey of agri-food systems.
Ramoudane's participation in the Young Scientist Group promises to stimulate real-world impact for sustainable development, and he is an excellent example of the dedicated and talented emerging scientists whose development we foster at UNU-FLORES.
We are incredibly proud of Ramoudane's achievements and look forward to witnessing the profound impact he will make through this very special opportunity.