2023/07/13 Dresden, Germany
Juliane Dziumla reports.
Exciting news regarding the project, "Barriers to Sustainable Infrastructure: the Case of Chile (SI-Chile)" which has resulted in a comprehensive policy roadmap that is now available. Published by UNU-FLORES in collaboration with UNEP and the Ministry of Public Works of Chile (MOP), this roadmap provides essential policy recommendations to promote sustainability in infrastructure projects across construction, mobility, and water sectors. The aim is to reduce environmental impact, advance renewable energy, and ensure long-term economic viability.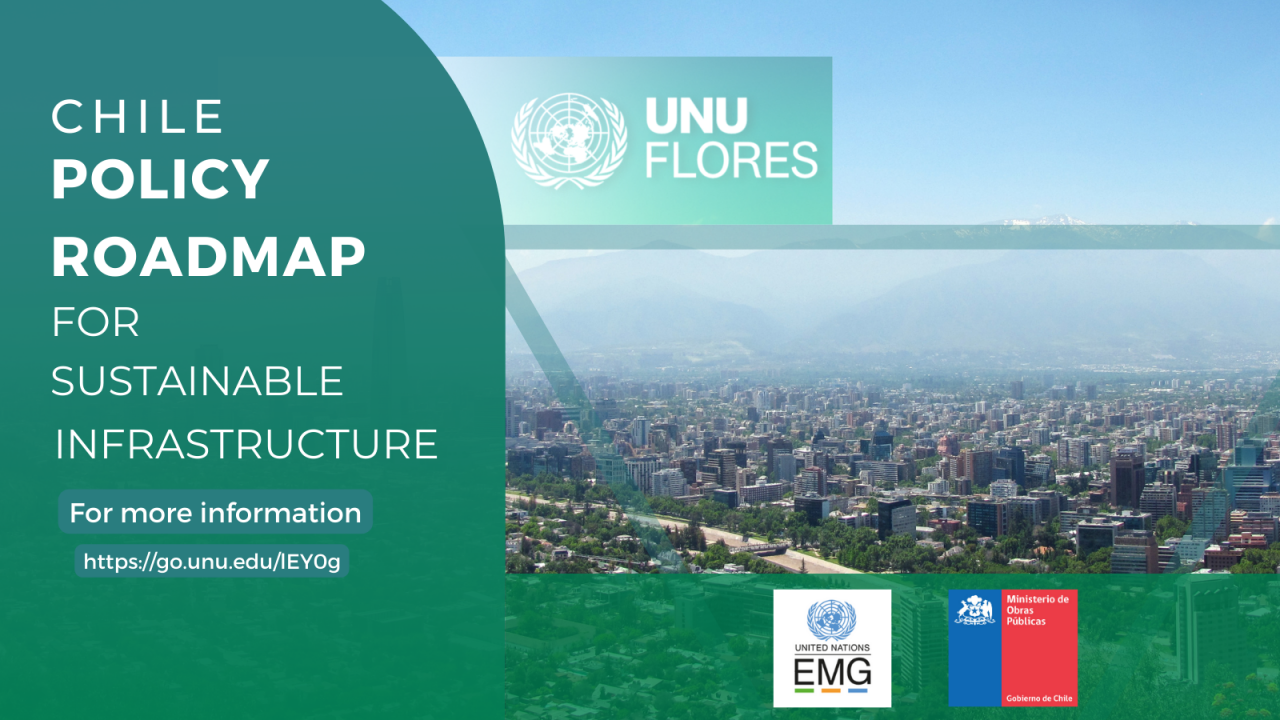 The policy recommendations featured in the roadmap are the culmination of an extensive study conducted by UNU-FLORES, UNEP, and MOP in 2022. Through a comprehensive literature review and in-depth interviews with experts from Chilean ministries, NGOs, private companies, and scientists, the project aimed to identify existing barriers hindering sustainable infrastructure projects. These insights were further augmented by expert workshops involving the Ministry of Public Works. The resulting policy recommendations were carefully crafted to address identified gaps and needs, providing a solid foundation for transformative action.
Chile's policy roadmap for sustainable infrastructure represents a significant step towards transforming the nation's infrastructure sector. By incorporating the policy recommendations within the Strategic Axes, Chile can actively pursue its sustainability goals, including greenhouse gas emissions reduction, energy efficiency improvement, public transportation enhancement, and innovative construction practices. An important aspect is also to equip staff members with the necessary knowledge and skills to successfully govern sustainability infrastructure projects along their life cycle. By providing training on sustainability assessment tools, ministries can enhance the capacity of their workforce to effectively implement and manage sustainable infrastructure initiatives. This emphasis on continuous learning and skill development ensures the longevity and success of sustainability efforts.
With the unwavering support of UNEP, MOP, and other stakeholders, Chile is well-positioned to create a resilient and low-carbon infrastructure network that aligns with global climate action commitments. By implementing these recommendations, Chile can pave the way for sustainable infrastructure that benefits both the environment and society as a whole.
The policy recommendations presented in the roadmap revolve around three key Strategic Axes. These axes encapsulate the core areas where sustainable infrastructure initiatives can drive meaningful change.
The Roadmap can be downloaded here.