2021/07/05 Dresden, Germany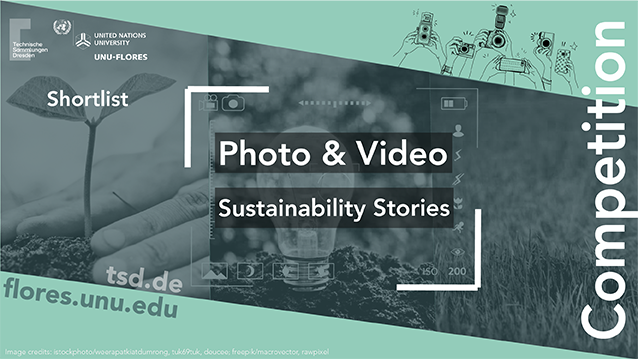 UNU-FLORES and the Technische Sammlungen Dresden present their shortlist for the Sustainability Stories Photo and Video Competition, selected from more than 400 entries from almost 40 countries.
---
In a bid to explore the Resource Nexus and sustainability in images, UNU-FLORES and the Technische Sammlungen Dresden invited both amateurs and professionals to submit photographs and videos in conjunction with the International Year of Creative Economy for Sustainable Development 2021. Hundreds of entries have been pared down to a shortlist of 22, with the final winners set to be announced on Friday, 9 July 2021 during the Long Night of Science Dresden (Lange Nacht der Wissenschaften).
The competition received more than 400 entries from almost 40 countries, about three-quarters of which from the Global South. The shortlisted photographers and videographers captured different perspectives on the Resource Nexus, particularly relating to agriculture, forests, circular economy, climate change, and biodiversity.
Shortlist – photo category (in alphabetical order)
Alexej Sachov, Ukraine
Anthony Into, Philippines
Danilo O. Victoriano Jr., Philippines
Emran Hossain, Bangladesh
Iqro Rinaldi, Indonesia
Jashim Salam, Bangladesh
Jovi Totorea, Fiji
Kazi Md. Jahirul Islam, Bangladesh
Leyla Emektar, Turkey
Michele Lapini, Italy
Nikki Sandino M. Victoriano, Philippines
Soheila Esmaeili, Iran
Somenath Mukhopadhyay, India
Sujan Sarkar, India
Yongguang Wei, China
Ziaul Huque, Bangladesh
Shortlist – video category (in alphabetical order)
Alkistis Voulgari, Greece
Angie, Germany
Ingrid Olivo, El Salvador
Jean-Michel Rolland, France
Shriya Shruti Misra, India
Uttam Kamati, India
The judging panel consisted of the award-winning photographer on sustainability Lucas Foglia, Technische Sammlungen Dresden Museum Director Roland Schwarz, and UNU-FLORES Communications and Advocacy Lead Atiqah Fairuz Salleh.
The shortlisted images and videos will be displayed in an exhibition at the Technische Sammlungen Dresden from 24 July 2021, to be launched at the Museums Night Dresden 2021 (Museumsnacht Dresden).
The "Sustainability Stories" initiative is made possible with the contribution of our sponsor, Saxon State Ministry for Energy, Climate Protection, Environment and Agriculture (SMEKUL).