2021/02/02 Dresden, Germany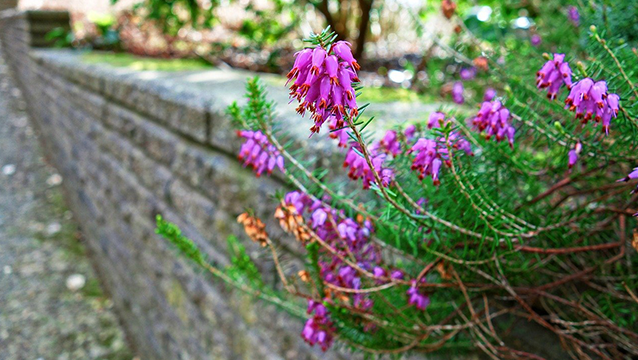 The Free State of Saxony has special responsibility for the conservation of a number of animal and plant species, such as the bell heather pictured (SMEKUL 2013) (Image: Pixabay/Mabel Amber).
The Saxon State Ministry for Energy, Climate Protection, Environment and Agriculture (SMEKUL) has awarded UNU-FLORES and TU Dresden the "eku idee" as part of the "eku Future Prize for Energy, Climate, Environment in Saxony". The project team's entry won a grant of 5,000 euros among a total of 240 entries submitted.
---
In collaboration with TU Dresden (led by Prof. Remmer Sassen and Dr Jon Morris), the UNU-FLORES project team*, led by Dr Nora Adam (Partnerships and Liaison Officer) and Atiqah Fairuz Salleh (Communications and Advocacy Lead), convinced the expert panel with their proposal to increase the awareness of biodiversity through a public dialogue series in Saxony. While biodiversity is indispensable for human health and wellbeing, its loss and degradation are concerning as they jeopardise the achievement of multiple UN Sustainable Development Goals (SDGs). A 2019 survey in Germany showed that "awareness for biological diversity" – measured by indicators on knowledge, attitudes, and behavioural readiness to protect biodiversity – increased only marginally to 28 per cent in a ten-year period (Naturbewusstsein 2019). Increasing the awareness of biodiversity and its value in society is thus one step on the path to halting biodiversity loss.
"Biodiversity as a concept is complex. It consists of different levels: genetic, species, and ecosystems. Increasing awareness about it requires multiple measures, such as making it comprehensible for the wider society, for instance, through public dialogue."
– Dr Nora Adam
SMEKUL announced a call for the "eku Future Prize for Energy, Climate, Environment in Saxony" for two categories: "eku idee" and "eku innovativ". In the category "eku idee", the Ministry invited local civil society actors, students, young professionals, municipalities, institutions, and others to submit ideas committed to biodiversity conservation, resource conservation, regional value creation, water revitalisation, energy efficiency, as well as climate protection and adaptation.
In addition to a public dialogue to improve collective understanding of biodiversity and how every individual can contribute towards protecting it, an engaging element such as a photo competition is intended to help get people to reconnect with biodiversity and to fully appreciate it.
The proposal received letters of support from Prof. Josef Settele (Head of Department of Conservation Biology, Helmholtz-Centre for Environmental Research – UFZ) and Prof. Jochen Schanze (TU Dresden, Faculty of Environmental Sciences and Board Member, PRISMA – Center for Sustainability Assessment and Policy).
* The UNU-FLORES team consists of Prof. Edeltraud Guenther (Director), Lisa Junge (Student Assistant), and Natchiyar Balasubramamian (former assistant to the Partnerships and Liaison Officer).