2017/10/31 Dresden, Germany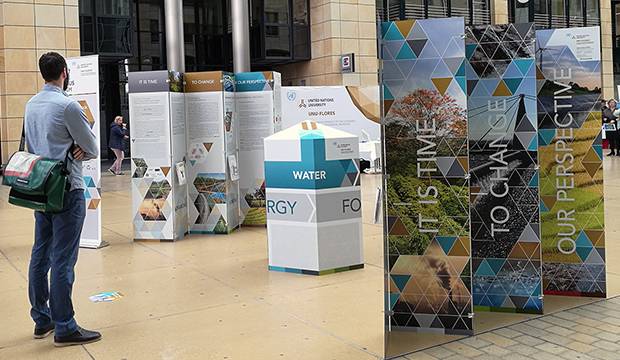 Advancing sustainable development for all requires a change in perspective. At the recent UN Day Dresden celebrations, UNU-FLORES unveiled a brand new exhibition on the Nexus Approach at the World Trade Center Dresden (WTC) introducing the public to a new perspective on resources management.
The natural world is an intricate and sophisticated global system of links that connects everything to everything else. As human development changes our natural world, those links are causing some unforeseen and unintended negative consequences. To help us see the big picture and understand these interconnections and interdependencies, scientists, politicians, and practitioners around the world are turning to a Nexus Approach to environmental resources management.
In celebration of its five-year anniversary, UNU-FLORES has developed an exhibition introducing the Nexus Approach. It explains why a change in perspective is necessary, how the Nexus Approach has evolved, and discusses what it will take to implement this concept in the management of environmental resources.
The exhibition has been designed for use at trade fairs and conferences around the world. Its first stop is Dresden, home to UNU-FLORES, whose mission is grounded in the advancing of the Nexus Approach. The exhibition is free-of-charge and is open to public, in English and German. It will be up at the Atrium of WTC from 24 October to 5 November 2017.