2022/02/10 Dresden, Germany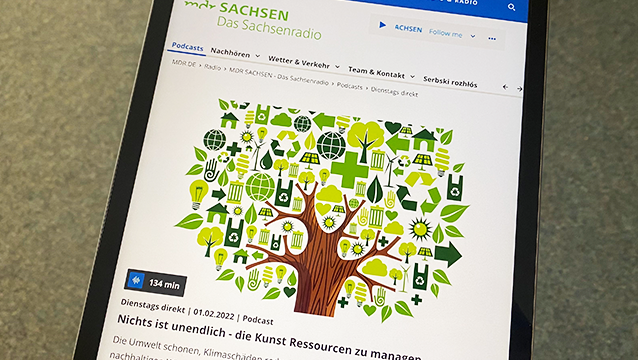 Director of UNU-FLORES, Prof. Edeltraud Guenther, appears on MDR Sachsen's Dienstags direkt programme to discuss the upcoming Saxon Entrepreneur of the Year Awards – and the value of sustainable resource management – on the episode "Nichts ist unendlich – die Kunst Ressourcen zu managen".
---
2022 marks the 17th annual Saxon Entrepreneur of the Year Awards – a prestigious recognition of excellence in innovation and entrepreneurship that spans established brands, to start-ups at the very beginning of their journey.
This year, a new prize titled 'Focus X – Best Resource Manager' will be awarded to a company that has shown particular insight into sustainable practices. As the 2030 Agenda draws nearer, and international supply chains have suffered from extreme disruptions due to the ongoing pandemic, the importance of sustainable resource management has become even more prominent in the many facets of our lives – from sustainable production and consumption to construction and human capital.
The latest episode of the MDR Sachsen Radio programme and podcast, Dienstags direkt, titled "Nichts ist unendlich – die Kunst Ressourcen zu managen" ('Nothing is infinite – the art of managing resources'), brought together a panel of leading authorities in politics, economics, and sustainable production to discuss why resource management is so important for a sustainable future, and what we can do to aid its progress. Prof. Guenther offered both her perspective as an academic with over 30 years of experience in sustainability assessment, and the work of UNU-FLORES in resource management, to this dynamic and extremely relevant dialogue.
Prof. Guenther cited the FLexible Office: Concept for RESource Optimisation (FLORES) when discussing the Resource Nexus in the context of organisational practice. By fully understanding the needs of the UNU-FLORES team members, manufactured capital can accordingly be allocated more efficiently. The changing times and the future of work invite us to rethink existing practices to champion more sustainable resource use.
She shared her observations regarding finite resources that are often not considered when we think about resource management – such as sand, of which only 15 billion of 40 billion tonnes are mined legally worldwide. After water, sand is the most exploited resource in the world, and demand for this material only increases as the global population grows – in fact, China used the same amount of sand from 2011-2013, as the US did during the entire 20th century – leading to the rise of illicit sand mining at the hands of so-called 'sand mafias'.
Likewise, human capital is a resource that is not nearly considered enough in sustainable practices, although Prof. Guenther strongly believes in the potential of any company to take the small steps needed to start a journey of corporate sustainability, as well as the potential for Saxony to fully commit itself to sustainable development.
Fortunately, the upcoming entrepreneurs vying for the Focus X prize are well on their way to making this vision a reality.
Listen to the podcast (in German)