2021/01/20 Dresden, Germany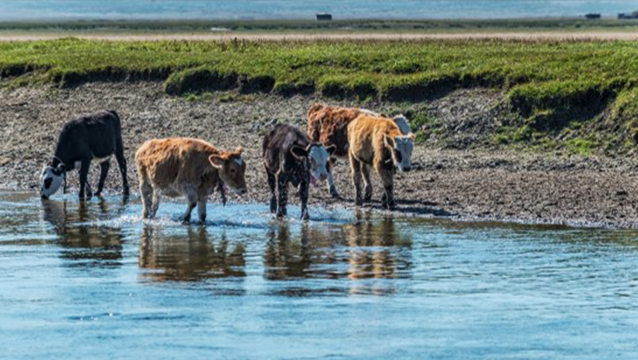 Image: Daniel Karthe
The management of water resources in the Selenga River Basin is closely linked not only to other environmental resources, but also geopolitical and socioeconomic development. The Resource Nexus offers a perspective.
---
At Nexus Seminar 49, Prof. Daniel Karthe, Head of Research Programme – Resource Nexus for Regions in Transformation at UNU-FLORES, presented the case study of the Upper Selenga River Basin. The seminar took place on 14 December 2020 in a virtual format.
Taking the starting point of the Integrated Water Resources Management (IWRM), Prof. Karthe went on to illustrate how the Resource Nexus provides a holistic perspective on the case study. He began by providing a brief insight into the IWRM concept and the Resource Nexus Approach.
From IWRM to the Resource Nexus
Prof. Karthe walked seminar participants through the history of IWRM that goes back to almost a century ago and has since developed into the leading concept for water management over the past twenty years. IWRM has been critiqued – among others – for being slow in implementation and lacking effectiveness (Jeffrey and Gearey 2006, Mukhtarov 2008).
Introducing the Nexus Approach, Prof. Karthe traced it to the Water-Energy-Food security (WEF) Nexus from the 2011 Bonn Conference. UNU-FLORES later focused on the Water-Soil-Waste Nexus. Today, that has expanded as embodied by the Resource Nexus, encompassing biotic and abiotic resources, including waste and energy (Guenther 2019). Prof. Karthe also illustrated the linkages of the Resource Nexus to the UN Sustainable Development Goals (Bleischwitz et al. 2018).
Case Study: Upper Selenga River Basin, Mongolia
Applying a Resource Nexus approach centred on water (Lal 2015) as a framework, Prof. Karthe presented the case study at hand. He introduced the region, describing the basin of Lake Baikal and the Selenga as a transboundary river basin flowing northeastwards through Mongolia and into Russia. A world natural heritage site, Lake Baikal is the world's oldest and largest freshwater lake.
Prof. Karthe explored the nexus between water and environmental resources such as soil, biosphere, raw materials, energy, and food, as well as other dimensions classified as development goals.
Due to its continental location, Mongolia has limited water resources. However, it has a wealth of mineral resources. Mining is one of the most important sectors in the country – it makes up 20 per cent of its GDP and 90 per cent of the country's exports (Bataarzorig et al. 2018).
In the Upper Selenga Basin, mining substantially consumes water, pollutes water and soil, and causes erosion and land degradation. The pollution of rivers linked to mining in Northern Mongolia resulted in increased turbidity and high concentrations of trace elements. Mining, thus, has a major negative impact on the water quantity and water and soil quality in the region.
The quality of water and soil has impacts on the biosphere and food and vice versa. The interlinkages become evident through agriculture and pastoralism. Agriculture's impact is observed through irrigation, which together with a vast increase in livestock numbers, has led to soil and riverbank erosion, increased sediment and nutrient loads in rivers, and changes in aquatic flora and fauna. Research has found accumulation of heavy metal in fish and plants.
Situating the Upper Selenga Basin against global climate change, the region is considered a hotspot – it warms up at approximately twice the average rate.
Going beyond environmental resources, Prof. Karthe rounded off his analysis by looking at the geopolitical and socioeconomic dimensions of the case study. In terms of geopolitical security, he briefly cited several media articles that demonstrated how environmental impacts on Lake Baikal could escalate into a political conflict, bearing in mind that the waters are transboundary.
Looking at the socioeconomic dimension, competing water demand by society and the economy can create tension. On the one hand, the urban population is increasing its water demand. On the other, agricultural productivity and a growing mining sector depend on water, adding pressure on the already limited supply.
Through the Resource Nexus perspective, Prof. Karthe illustrated various interlinkages in the case study. He pointed out, though, that synergies and tradeoffs between different goals have yet to be quantified, which would be essential for managing resources via a Nexus Approach.
From the Mongolian Case to Future Research
In the lively Q&A session that followed, a highly engaged audience raised a wide range of questions. Addressing a query on cause-effect analysis, Prof. Karthe explained that more research is needed to study temporal trends. On data scarcity, where data availability and access are limited in the region – he raised the importance of clearly stating to decision makers which decisions can already be taken based on existing data and which would yet be beneficial in the future.
Speaking on the conundrum of implementation and capacity development, Prof. Karthe shed light on the need to first begin with the latter before being able to implement any nexus solution. This would ensure that any resulting tech solution, for example, would be sustainable. Taking that further in response to a question on the transfer of the research results, Prof. Karthe shared that neighbouring regions of Central Asia – sharing a similar recent history and topography – could benefit from the knowledge transfer from the Mongolian case.
Finally, seminar participants brought up the inclusion of social sciences and citizen participation methods in the current study. While the presentation focused on natural scientific aspects, Prof. Karthe clarified that social scientists had also contributed to the project, the inputs of whom had been particularly relevant in considering policy developments. While a citizen science approach could further enrich the research, the project had engaged with farmers, teachers, and local administration as some of the stakeholder groups.
Going forward, Prof. Karthe advocated for the need to develop strategies and integrated models to operationalise the Resource Nexus. Future research could look at measuring nexus correlations between resources and assign quantitative linkages between different compartments.
References
Baatarzorig, T.; Galindev, R. & Maisonnave, H. 2018. "Effects of ups and downs of the Mongolian mining sector." Environment and Development Economics 23(5):527-542. DOI:10.1017/S1355770X18000153
Bleischwitz, Ra.; Spataru, C.; VanDeveer, S.D.; Obersteiner, M.; van der Voet, E.; Johnson, C.; Andrews-Speed, P.; Boersma, T.; Hoff, H. & van Vuuren, D.P. 2018. "Resource nexus perspectives towards the United Nations Sustainable Development Goals." Nature Sustainability 1(12):737-743. DOI:10.1038/s41893-018-0173-2
Günther, E. 2019. "Measuring and Managing the Resource Nexus." Presentation at the UNU-FLORES & TU Dresden Nexus Seminar, 16 December 2019.
Jeffrey, P. & Gearey, M. 2006. "Integrated water resources management: Lost on the road from ambition to realisation?" Water Science and Technology 53:1-8. DOI:10.2166/wst.2006.001
Lal, R. 2015. "The Nexus Approach to Managing Water, Soil and Waste under Changing Climate and Growing Demands on Natural Resources." In: Kurian, M. & Ardakanian, R. (Eds.) (2015): Governing the Nexus: Water, Soil and Waste Resources Considering Global Change, pp. 39-60. Cham, Switzerland; Heidelberg, Germany; New York, USA; Dordrecht, The Netherlands & London, UK: Springer.
Mukhtarov, F.G. 2008. "Intellectual history and current status of Integrated Water Resources Management: A global perspective." In: Pahl-Wostl, C.; Kabat, P. & Möltgen, J. (Eds.): Adaptive and integrated water management, pp. 167-185. Berlin and Heidelberg: Springer.