2017/03/17 Dresden, Germany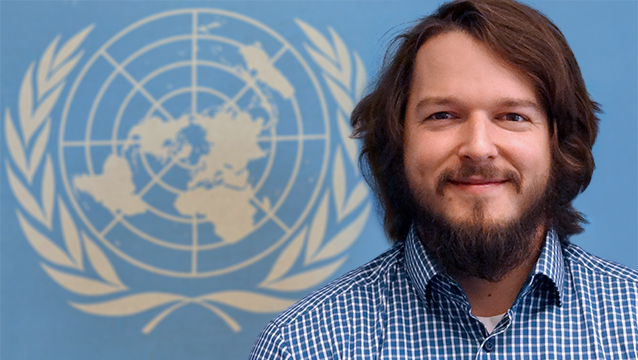 Adapting to climate change from the Andes to Prague – UNU-FLORES visiting researcher on why we all need a plan.
Adam Emmer is currently putting the finishing touches to his PhD at the Global Change Research Institute of the Czech Academy of Sciences (CzechGlobe) on Glacial Lake Outburst Floods in the Andes. He has worked extensively on adaptation plans for cities in the Czech Republic. During his research stint at UNU-FLORES, he closely supports the Water Resources Management and the System and Flux Analysis Considering Global Change Assessment units. This exchange is part of the activities suggested in the trilateral Memorandum of Understanding between UNU-FLORES, Technische Universität Dresden, and CzechGlobe, covering among other things joint research and exchange of professionals within the international activities of the parties.
Interview by Atiqah Fairuz Salleh, Communications and Advocacy
Your PhD focuses on glacial lake outburst floods in the Andes. What exactly are you working on?
Glacial lake outburst floods (GLOF) refer to the sudden release of water retained in a glacial lake following dam failure or dam overtopping, for example. In high mountainous areas affected by changing climate, such as the Andes, they represent a major threat. As a result of climate change-induced glacier retreat, new lakes are forming and evolving. They put local communities settled downstream from the lakes at risk of flooding. I am focusing on the highest Peruvian mountain range – Cordillera Blanca, here GLOFs have claimed thousands of lives and caused considerable material damage in the past.
In my thesis, I develop a methodology for assessing the predisposition of glacial lakes to produce outburst floods. The consideration of various types of glacial lakes as well as various combinations of causes and mechanisms of these events (five different scenarios) is unique to the methodology I propose. It aims at identifying hazardous lakes and likely GLOF scenarios.
You work extensively on climate change adaptation and disaster risk reduction – both as part of your post-graduate studies as well as in practical implementation. You were involved in developing an adaptation strategy for Prague. What does an adaptation plan entail? Could you share with us what are the steps involved?
Prague is among the pioneer Czech cities, which agreed to prepare their own climate change adaptation strategies. The strategy was prepared within the frame of the UrbanAdapt project coordinated by CzechGlobe. Several series of "tailored" participatory workshops with key stakeholders were organised, focusing on the identification of relevant threats (strategic topics) at first, as well as suitable and feasible adaptation options in the final phase. The process began in 2015 and the adaptation strategy is currently being approved.
Why is your work especially important today? Where do you see the future of climate change adaptation going?
Climate change has been considered a marginal issue in the Czech Republic for a long time. Climate change adaptation (CCA) is, therefore, a "brand new topic" there, compared to for example, Germany, where it has gained much more traction. However, in recent years, the Czech Republic has been facing numerous extreme hydro-meteorological/climatological events such as floods (severe ones in 1997, 2002, 2013) or heat waves and droughts (2013, 2015). These events are claiming lives, and causing material damage and economic losses up to several percentage of GDP in some years.
Following European Union (EU) initiatives, a national adaptation strategy was approved by the Czech Government in the autumn of 2015 and a national adaptation action plan at the beginning of 2017. These documents frame CCA on the national level and require implementation actions on regional and local levels. Especially CCA on the local level presents quite a challenging but necessary task. It is well-recognised that CCA should be taken into account in strategic planning on all administrative levels; yet it is actually not fully met nowadays.
Why does an exchange at an institute that focuses on nexus-oriented topics (UNU-FLORES) and not an institute focusing on disaster risk reduction or climate change specifically benefit your work?
Some of the burning issues we are facing are cross-cutting among diverse scientific disciplines and specialisations. I'm convinced that meeting new people with different backgrounds, knowledge, experiences, and points of views, discussing new ideas, using modified methodologies as well as conceptual approaches and learning from one another are the main benefits of such exchange. More specifically – what is interesting for me personally – is to find out if/how the water-soil-waste Nexus Approach developed at UNU-FLORES could be used for more efficient and sustainable climate change adaptation planning.
How does the inter-institutional cooperation between UNU-FLORES, TU Dresden, and CzechGlobe help further work in sustainable development?
Sustainable development is an important part and a "common denominator" of research activities at all three institutes. Reflecting the similarity and complementarity of research topics, cross-border inter-institutional cooperation between Germany, Poland, and the Czech Republic is currently being developed through the proposal of joint projects supporting scientific exchange and cooperation. To date, three common research themes have been identified: i) drought management; ii) urban farming; and iii) circular economy. All these topics have certain overlaps with sustainable development and, as a result, should generate progress in this direction.