2014/05/22 Bonn, Germany
In the context of a discussion series on "Sustainable Development and Risk Management in International Cooperation",  jointly organized by EuroConsult Research & Education, the University of Bonn and the European Association of Development Research and Training Institutes (EADI), the director of UNU-FLORES, Prof. Dr. Reza Ardakanian presented a lecture on "Advancing a Nexus Approach in Sustainable Management of Environmental Resources (Water, Soil and Waste)".
More than 90 participants attended the seminar which began with opening remarks by Jürgen Nimpsch, the Honourable Lord Mayor of the Federal City of Bonn and was moderated by Prof. Dr. Chinwe Ifejika Speranza, University of Bonn / UNU-EHS.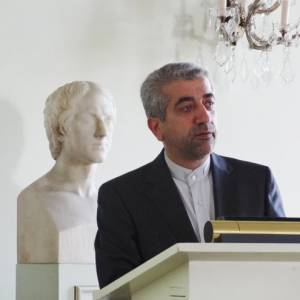 Taking the Bonn 2011 Conference on the water, energy and food security nexus as a starting point, the lecture highlighted the inter-linkage of that nexus with a nexus approach to the management of water, soil and waste, arguing that this approach represents the resources perspective to the water-energy-food nexus. Advancing a nexus approach requires institutionalized support, enhanced activities in nexus-oriented research, developing and implementing nexus-oriented teaching and training programmes as well as guidance of governance, particularly in developing countries. UNU-FLORES, dedicated to act as think tank on the integrated management of environmental resources for the United Nations and member states, considers itself as a response to the nexus initiative and has since its official opening in 2012 been active in all mentioned areas. In particular, the establishment of an operating unit in Maputo, Mozambique will facilitate the implementation of research and teaching programmes in Southern Africa. The newly launched joint PhD programme with TU Dresden will enhance research capacities on nexus-relevant issues and contribute to individual capacity development. The Dresden Nexus Conference, planned as a bi-annual event (the first of which is scheduled 25-27 March 2015), will provide a platform to bridge between science and implementation.