2019/11/22 Dresden, Germany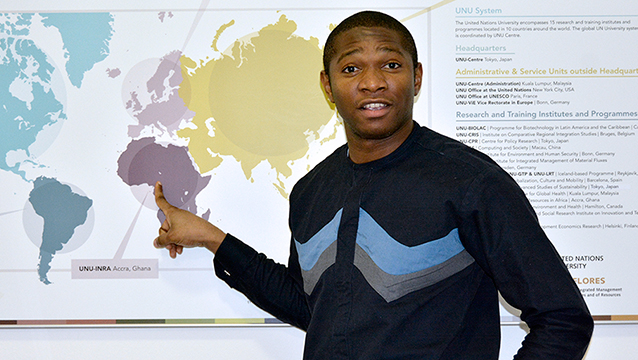 UNU-FLORES offers a rigorous internship programme giving students and recent graduates the opportunity to develop new skills and knowledge in a constructive setting for the practical application of their capacities acquired during their studies. Through hands-on experience, interns work in a variety of areas from academic research, event organisation, communications and advocacy, and institutional development and administration. In this series, we feature the young brilliant minds that have played a big part in many of our activities and events. In this interview, we talked to Stanley Egenti from Nigeria, who worked with the Soil and Land-Use Management team.
Tell us about yourself. What is your motivation to do an internship with UNU-FLORES?
I am passionate about development research and development policy and my interest is in agriculture, job creation, and development economics/finance. In the course of time, I look forward to working in the field of international development, and the opportunity of doing an internship with UNU-FLORES would equip me with the necessary skills and present me with the opportunity to get acquainted with the work culture in the development area.
What types of projects do you work on? What's the highlight of your internship?
I worked on the research project titled "Integration of organic waste in biomass production in smallholder farming systems in the Kagera region, NW Tanzania". My major task was to conduct descriptive statistics of the crop yield in mainland Tanzania and Kagera region and assist in coding the qualitative focus group data of the field research. This project is aimed at promoting sustainable agriculture in Tanzania. I also did a critical review of a book chapter on the topic. I find learning R, a statistical software, the most interesting part of my internship.
What kind of skills do you need to be successful at your internship?
Statistical and Graphical Analysis of Data is a very vital skill that is needed during my research internship. It would not have been possible for me to conduct descriptive statistics on the crop yield in Tanzania if I did not have this skill. Critical thinking is another important skill needed to be successful; this skill played a crucial role when I was tasked with critically reviewing the book chapter. Intercultural communication skills helped me to work harmoniously because most of my colleagues are from different countries with different cultures.
What are some words of wisdom you'd give to anyone aspiring to be in your position?
I would advise them to feel free to ask questions whenever they are faced with challenges. They should try not to pretend that all is well at the expense of learning what they do not know from colleagues. They should also take the research courses at university seriously. In conclusion, I strongly recommend an internship at UNU-FLORES for students. Although it was quite challenging, the rewards are abundant, and it is an ideal start for students who are thinking of entering the world of academia, diplomacy, and public policy.