2018/12/20 Dresden, Germany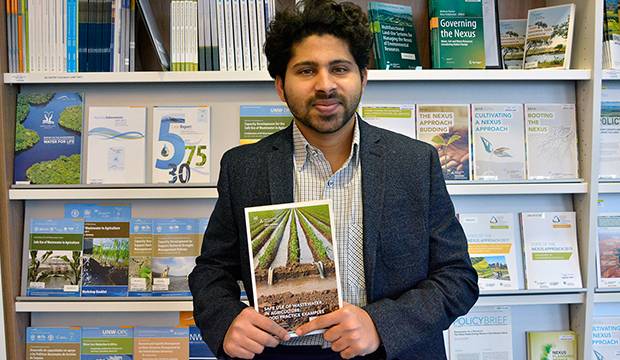 UNU-FLORES offers a rigorous internship programme giving students and recent graduates the opportunity to develop new skills and knowledge in a constructive setting for the practical application of their capacities acquired during their studies. Through hands-on experience, interns work in a variety of areas from academic research, event organisation, communications and advocacy, and institutional development and administration. In this series, we feature the young brilliant minds that have played a big part in many of our activities and events. In this interview, we talked to Chandrashekar Kshourad from India, who worked with the Waste Management unit.
Tell us about yourself. What is your motivation to do an internship with UNU-FLORES?
I am a civil engineer from India. I graduated in 2012 and worked for four years in leading environmental companies like Veolia and Suez. I worked on practical aspects of water distribution and treatment resulting in my interest towards theoretical aspects in environmental science. I was always interested in research on water developments and the global water crisis. That is why I opted to complete my higher education in Germany with a master's in hydro science at Technische Universität Dresden.
I always believed to make one useful globally and to broaden one's viewpoint, it's important to work in an international organisation. United Nations (UN) and UN University have been at the helm of discussing global problems and have been working towards the solutions since their foundation. So, I chose UNU-FLORES, which is one of the emerging research institutes of the UN System. I hope to see myself as a researcher in the future.
What types of projects do you work on? What's your favourite part of work?
Working as a research intern in the Waste Management unit included literature review and doing write-ups on the waste management sector. I got to learn about exciting insights on various technologies and I had to review them occasionally. Most of the time it was a mix of reading papers, implementing the ideas from the papers, and identifying if there's any room for improvement during the numerous meetings I had throughout my internship period. In addition, I had special opportunities to attend seminars from qualified researchers as part of the Nexus Seminar Series.
My work included among others co-authoring a book chapter on the policy aspects of waste-to-energy and supporting the development of journal publications on other interesting topics. My favourite part of work were the lunch breaks when the very diverse team got together and had interesting discussions. I also enjoyed the lengthy discussions with my supervisor, Prof. Hiroshan Hettiarachchi, as he always let me speak my mind first.
What kind of skills do you need to be successful at your internship?
Scientific writing, a good command of the English language, and basic understanding of environmental engineering would be necessary for my internship. In my case, experience in waste management and wastewater management proved to be useful. Apart from that, teamwork and patience are the social skills required.
What are some words of wisdom you'd give to anyone aspiring to be in your position?
To the aspiring candidates, I would say that more than technical skills, you need the right motivation to succeed. The application of research is as important as the research itself and arguably even more so. This was one important advice I received from my supervisor and I would like to pass it on, too.