2016/11/25 Dresden, Germany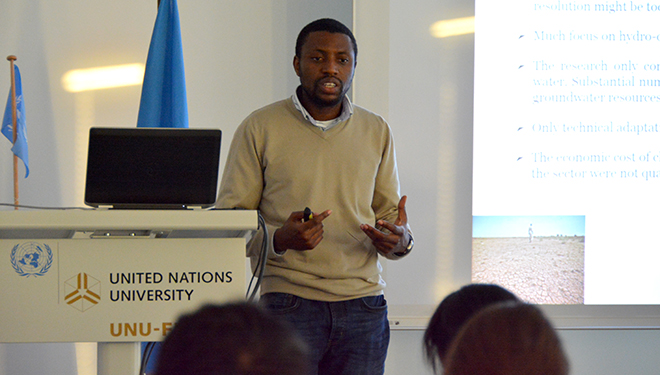 By Atiqah Fairuz Salleh, Communications and Advocacy
"By 2030, ensure universal access to affordable, reliable and modern energy services"
– Target 7.1, Global Goal 7
Access to energy is an important element of the UN Sustainable Development Goals (SDGs). Yet, over 620 million people in Africa still lack access to electricity. At the 16th Nexus Seminar this week, UNU-FLORES visiting scholar Oluwabamise Afolabi explained how climate change, population growth, and changing energy demand in Nigeria can place further pressure on water and energy supplies, and how we can go about dealing with it.
In the presentation on his ongoing research project entitled "Climate Change Impacts on Energy Supply in Nigeria: A Climate-Water-Energy Nexus Assessment", Afolabi spoke about the interaction between the water and energy sectors in Nigeria and how they can be affected by climate change impacts. He began by walking the audience through the energy supply and hydro-climatic conditions in Nigeria and emphasising that the generation of electricity requires substantial amounts of water.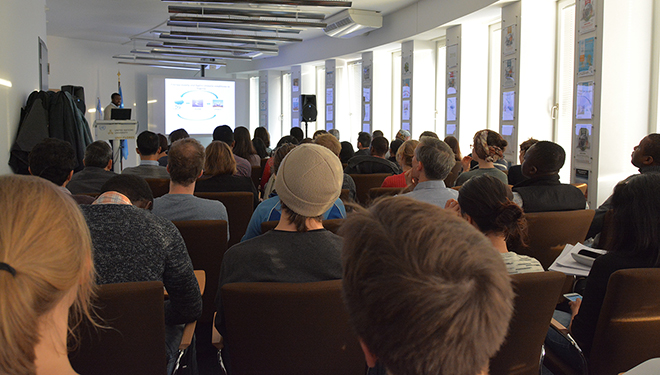 Presenting the current state of knowledge, Afolabi acknowledged that many studies have been done in the individual sectors – climate change studies, water studies, and energy studies. However, few have been able to assess the nexus between the water and energy sectors in Nigeria with the consideration of climate change impacts. Many questions are still left unanswered.
In his research project, Afolabi aims to assess the implications of climate change projections on water and energy supplies in Nigeria, assess the vulnerability of water-dependent energy infrastructures to climate change impacts, and ultimately establish a robust national adaptation strategy for the sector and the cost of different options.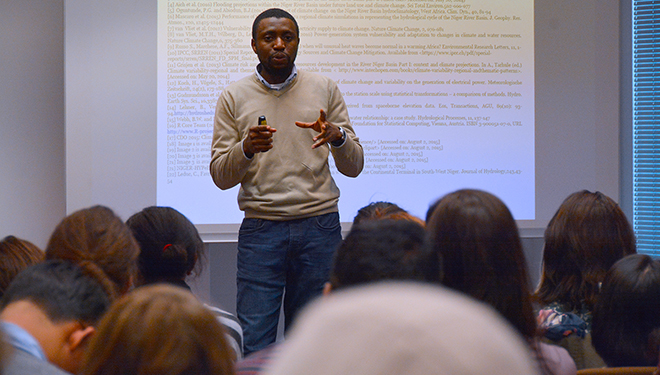 He stressed the need for collating and sharing data that is currently dispersed among the different sectors and to appreciate how the current energy mix of the country is dependent on hydro-climatic conditions. He noted how the Nexus Approach towards resources management adds value in solving the energy dilemma in Africa. Nexus thinking around climate-water-energy management brings about better cooperation and maintenance of resource quality for different sectors, better resources allocation, and improved interaction among stakeholders. This, however, is reliant on data availability and could mean longer research duration.
Concluding the presentation, Afolabi further described the impacts of the different climate change projections on energy supply and the suitable national adaptation measures that can better prepare the energy sector for these impacts. The Nexus Seminar was rounded off with an engaging Q&A session where issues on national adaptation options and non-water demand solutions (i.e. renewables) were raised.
The next Nexus Seminar on "Environmental Protection Strategies under Conditions of Sustainable Land Use Management" will take place on 12 December 2016 at TU Dresden. All are welcome to join.