2016/12/05 Dresden, Germany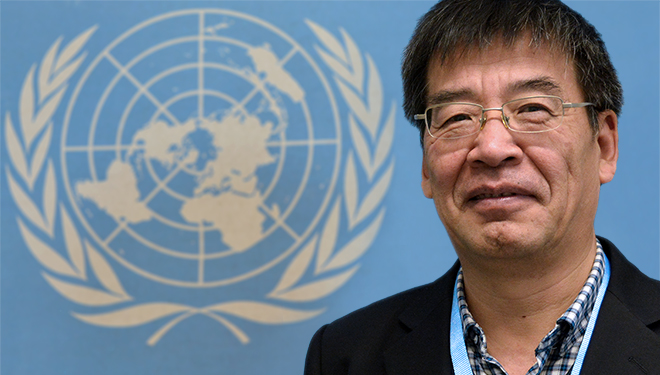 Prof. Yanhui Wang is the Head of the Department of Forest Hydrology and Integrated Water and Soil Management at the Chinese Academy of Forestry. His research topics focus on forest-water interaction and integrated management, particularly in dryland regions. He is also working on soil and water conservation, soil acidification and forest damage, and multifunctional forestry and forest management. As a visiting scholar at UNU-FLORES, Prof. Wang concentrates on multifunctional and integrated forest-water management at various scales from stand to watershed within the framework of the Nexus Approach. He holds a Bachelor of Agriculture and Master of Agriculture from the Beijing Forestry University in China, and a PhD in Forestry from Göttingen University in Germany.
On World Soil Day, we spoke with Prof. Wang on strategies towards sustainable forest, water, and soil management.
Interview by Atiqah Fairuz Salleh, Communications and Advocacy
Your work on afforestation to combat soil erosion challenges the common perception that "greening" measures are always good. How can planting more trees be detrimental to the environment?
Traditional forestry was developed in areas with enough precipitation and water supply. Primarily, it was aimed at producing more timber at the beginning, but later increasingly to also produce more ecosystem services, such as soil erosion control, carbon sequestration, flooding alleviation, biodiversity protection, and recreation. In face of increasing environmental problems like soil erosion, desertification, flooding, air pollution, and climate change, humankind wants to increase forest area to help address these problems. However, not enough attention had been given to the water limitation of afforestation and to the adverse impact of afforestation in reducing water yield. Subsequently, many negative impacts due to massive afforestation started to come to light.
For example, planted trees face a very low survival rate due to limited soil water available, especially under drought stress which is becoming more frequent due to climate change. Water yield may also be dramatically reduced due to the much higher evapotranspiration of forests with higher leaf area index and deeper root systems as compared to other vegetation types. In dryland regions, water limitation and water yield reduction are critical issues as they hinder sustainable development of both forestry, and society and economy.
From this viewpoint, we can say that more afforestation for more "greening" is not always right. We must consider the water carrying capacity for afforestation and for forestry in a multifunctional way. This is very important in dryland regions, but also in non-dryland regions. Afforestation is a process of land-use change, regardless of land type. The increase of services and goods from increased forests is generally accompanied with the decrease of services and goods from other land uses. Humankind has to face the upper-stream and down-stream competition for ecosystem services, especially for water supply. For a balanced regional development, humankind has to trade off the services and goods supplied by different land uses. In conclusion, we need to approach forestry planning and forest management with the consideration of the entire optimisation of services and goods in order to address the increasing and varying demands of humankind while maintaining a healthy environment to support sustainable development.
You lead the Chinese Academy of Forestry (CAF) in a cooperation project with UNU-FLORES. How does the Nexus Approach as advanced here add value to the work at CAF?
As an eco-hydrologist working on the interrelations among forest, soil, water, and people at various scales and on their integrated management, I must say that the Nexus Approach promoted by UNU-FLORES is in complete agreement with my thought and research. I think the Nexus Approach is a widely usable principle and approach. Through the cooperation with UNU-FLORES, I learn more about successful examples of the Nexus Approach to solve complex configurations of problems, and to learn the newest progresses both in theory and practice related to the Nexus Approach. This will surely help my research in China.
In my research, we try to understand the complex interrelations between forest stand structure, site conditions, and the various services supplied by forests, especially the soil- and water-related ones. We also try to understand the complex interrelations among the services from different land uses and between the services supplied by ecosystems and services demanded by people. More importantly, we try to find multifunctional solutions to optimise the supply-demand relation of services by active forestry planning and forest management. So you can imagine, the Nexus Approach adds great value to my work in China.
Goal 15 of the UN's Sustainable Development Goals (SDGs) is to "protect, restore and promote sustainable use of terrestrial ecosystems, sustainably manage forests, combat desertification, and halt and reverse land degradation and halt biodiversity loss". As an expert in forestry, how do you see your work fitting in the UN framework for a sustainable future for all?
Goal 15 is a general task for the whole world and for all users/owners/protectors of natural resources and services from terrestrial ecosystems. But the optimal approaches for realisation can vary greatly from region to region, from site to site, and even from time to time, due to the huge spatial and temporal variation of the interrelations between ecosystem structure and ecosystem services/goods, between different services, and between the demand and supply of services/goods.
For example, the massive conversion of slope farmland/grassland to forests in dryland regions can reduce soil erosion, and enhance carbon sequestration and forest products, but can also reduce services/goods from original land uses and decrease water yield down-stream and thus aggravating water shortage and desertification there. Therefore, we need an optimised land use composition/pattern within a watershed/region for a maximised total value of all ecosystems in a multifunctional way or through the Nexus Approach.
A further example is forest stand management, where a higher tree density can produce higher timber volume and carbon pool in trees within certain time periods, but decreases timber value since timber price increases generally with stem dimension, increases the risk of damage or trees by snow/storm, and decreases the biodiversity under forest canopy due to the decreased light on forest floor.
On the contrary, if the forest is managed with a proper density, most services can be maintained at a relatively higher level, while realising the objective of high-quality timber production with lower catastrophic damage. We need such a win-win strategy and more importantly the concrete management techniques for different sites in different regions under changing natural-social-economic conditions. My team and I have long worked for multifunctional forestry and forest management in dryland regions, with a special focus on water- and soil-related process understanding and services management. I can say that my work perfectly fits Goal 15 of the SDGs, and I hope I can make further contributions towards concrete realisation techniques.
The world celebrates World Soil Day today. What is one urgent task that we need to undertake in the name of sustainable soil management?
A healthy soil ecosystem is the basis of sustainability of all terrestrial ecosystems and their services and goods, therefore the basis of sustainable development. Accordingly, we need a sustainable management of soil resources. There are many different urgent tasks required in the name of sustainable soil management. The most urgent task can be region/site and time specific, such as soil erosion control in regions with severe soil erosion, soil remediation to remove pollutants in areas where the soil has been heavily polluted or optimised use of chemical fertilisers if the farmland soil has been excessively fertilised. If I must express the various tasks as one common urgent task, that would be to maintain, restore, and enhance the health level of soils and their ability to produce goods and services. For this purpose, we need to define what is considered healthy soil for different regions and sites, to evaluate how the health condition of soils and the corresponding productivity and services have changed and will change and their reasons for them, and what measures are needed to manage the soil for meeting the fast increasing and changing needs of humankind in terms of soil-related goods and services for ensuring sustainable development.
Prof. Wang will be co-convening Session A.4: Water- and Soil-Related Ecosystem Services Provided by Forests and Agroforestry Systems at the upcoming Dresden Nexus Conference 2017. Early bird registration for participation at the conference is now open.