2020/02/15 Dresden, Germany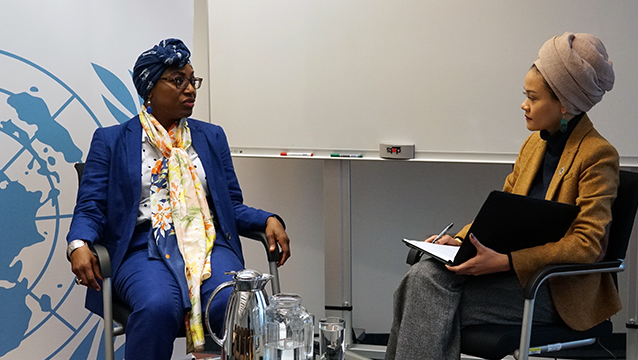 Science and knowledge reflect those who make them – be it in engineering or environmental science. This week, the world celebrated the International Day of Women and Girls in Science. In an exclusive interview, we spoke to Dr Fatima Denton, Director of UNU-INRA, on the intersections of gender equality and climate action.
---
By Atiqah Fairuz Salleh, Communications and Advocacy
From the natural resource management perspective, where do you think climate action should start?
In the context of Africa, I would start with agriculture. It's a no brainer. Smallholder farmers, making 80 per cent of all farmers, depend on agriculture. Whether we want to achieve industrialisation or transformational development, this sector is a must to include in any plan for climate action. Besides, the continent contributes to less than 4 per cent of global emissions, so our immediate priority is rather of adaptation than mitigation – it is almost an imperative. We can then blunt some of the harm and impact triggered by climate change. Agriculture offers the gateway for greater resilience. It would be a good place to start in terms of adaptation.
Indeed, food security is one of the first goals of Agenda 2030. Now if we apply the gender perspective in this context, especially when resource management and gender inequality intersect, how do you see solving one could solve the other or otherwise?
It is one of those development conundrums that we feel that we have answers to but years later we are still struggling. I think one of the constants in development history is that we are not taking enough risks when women are concerned. We are still too risk-averse. Because we play it safe, current problems are portrayed as if everything is about women and about empowering them.
I do not discount existing initiatives – such as microfinance – because they have made significant progress in women's lives, but we should not stop there. We should really be able to take some of these initiatives to scale.
In terms of solutions, given the role that women play in agriculture and other important development sectors, it matters so much that, if we are going to see the change that we want we must give them a bigger space. We must enable them in ways that will bring their entrepreneurial, management, and innovative capabilities to the fore. All of these are part of the solution.
You mentioned that the focus should not be solely about women. Who else is this about?
At the same time, we also have to recognise that the problems that women face are not always limited to women. By nature, women think for their whole community. They may be household managers, responsible for their community activities as well – we must find a way of ensuring that we are not pitting women against men.
We have to look at the problem as a whole – there may be structural difficulties related to agriculture or fisheries that are affecting both women and men alike. There may be disenfranchised men that have been pushed out.
If we were to create solutions for women, we would have to also take these men into account. In search of solutions that would result in more gender equality and greater empowerment, it is very important that women and men are not pitted against each other but are seen as part of a continuum.
What are some of the risks in the current quest for female empowerment, particularly against the background of development?
There are solutions and there are perceptions of the solutions. A big part of the problem is that we perceive women as vulnerable – vulnerability that is not helping them in terms of their own development and strategic goals. If our solutions are just very much slanted on that vulnerability, then we will spend another ten years of looking at them through that lens.
We should rather position women from a stance of capability and empowerment. We generally tend to see them as extremely vulnerable and fragile. Worse, there is also a tendency to exaggerate some of the vulnerabilities. These vulnerabilities do exist but when we exaggerate them, we tend to lose the opportunity of tapping into their potential – their resilience, innovation, and the ways in which they have brought in their own indigenous knowledge as part of their solutions. If we look at it more comprehensively and see in terms of what they have brought to the table, what can we do to bring it to scale?
So, instead of simply focusing on what they have to go through, we could also look at how they manage despite all of that.
Yes, sometimes there's a danger in looking at it from that perspective, because if you do that only, then you tend to gloss over the difficulties they face. But I haven't seen enough literature that really extracts women's capabilities in many different ways, especially when it comes to environmental natural resources. For example, literature that showcases some of the innovative ways women are making changes and a difference, and to begin seeing with which one of these innovations we can really create this transformation.
In integrated resource management, we can look perhaps at some water conservation activities that women have been leading that have shown some benefits. When we really study some of the skill sets that come with resilient behaviour, then we see how best we can give these meaning and brought to scale.
Going forward, how can we rectify the situation?
It is that level of observation that we commit from a position of knowledge that makes us think we know what they are going through and we think that what they are going through is pure hardship. Most of it is, but we are not seeing the other part of the coin – the resilient face where they are in spite of hardship showing great ingenuity, resourcefulness, and where, even though they are vulnerable, they are also managing it in a way that does not leave them basically even more exposed to vulnerabilities.
I think that development cooperation has always worked from the perspective of equating women to victims, weakness, and difficulties. I think we need to see more in terms of the solution-driven elements of what women within their communities can bring to the table.
Even in climate literature, when we talk about disasters, we say, "Well, women have greater difficulties with disasters because very often when floods occur, they cannot swim." Yes, maybe a number of them cannot swim but how do they manage and recover post-disaster? What are some of the strategies that they put in place to find their feet again and to bounce back? I think not enough of those questions are asked.