2017/01/18 Dresden, Germany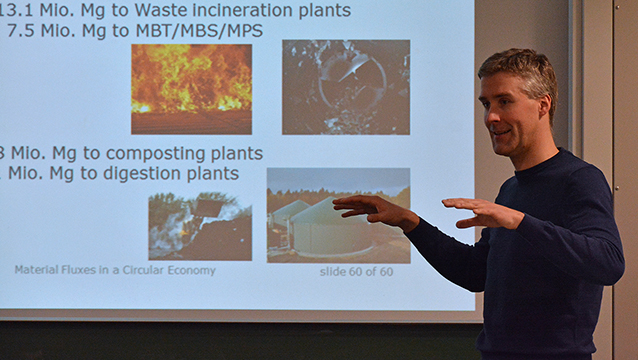 Reporting by Atiqah Fairuz Salleh, Communications and Advocacy
Conventionally the economy has followed a linear approach: resources are used and end up as waste. However, this is no longer viable today. In face of the world's growing needs yet depleting resources, a circular economy is the way forward to ensure development that is more sustainable.
This was the main crux of Christoph Wünsch's presentation on "Material Fluxes in a Circular Economy". Taking place on 16 January 2017 at Technische Universität Dresden, the lecture is part of the Nexus Seminar series. Wünsch from the Institute for Waste Management and Circular Economy at TU Dresden spoke in place of Prof. Dr Christina Dornack who was unable to present as originally scheduled.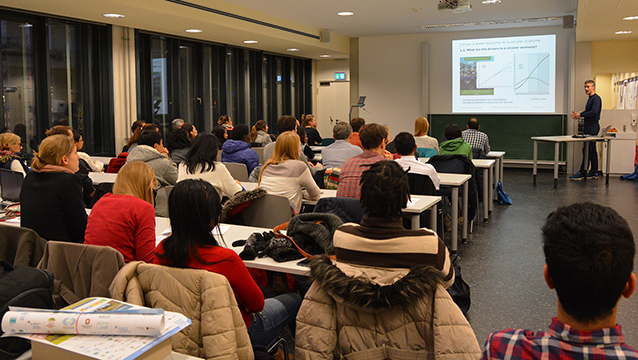 In his presentation, Wünsch makes the case for a circular economy, seeing it as a transition to sustainability. In a traditional linear economy, the amounts of waste and pollutions are ecologically unacceptable, resources are limited, and resources, disposal, and environmental damages involve high costs. A circular economy, on the other hand, is based on the principle that materials used in production are reused continually in one way or another instead of ending up directly in a landfill.
Wünsch cited various reasons for why we need a circular economy. Among them are increasing population and urbanisation, which are often accompanied by increasing demand on products and services. When we consume more, there is also a higher rate of waste generation. By 2025 global solid waste volumes are projected to increase from 1.3 to 2.2 billion tonnes. Additionally, resource scarcity and the increasing difficulty to extract natural resources further drive the move from a linear to a circular economy.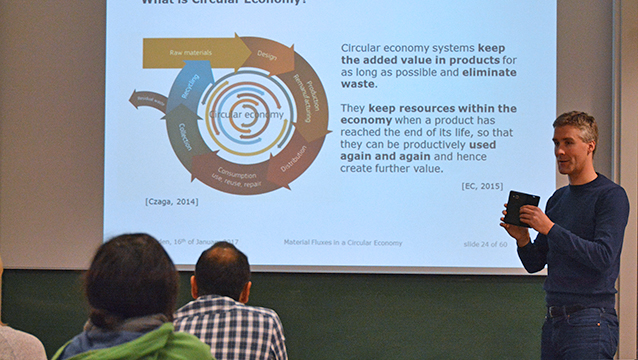 The paradigm shift means looking at wastes as resources and saving primary resources, altogether moving to circular flow schemes. To illustrate the point, Wünsch gave the example of the smartphone. Although the performance life of a smartphone has come to an end, in a circular economy, its components – the raw materials used in its production – can be reused to produce other electronic parts.
Circular economy systems retain the added value in products for as long as possible and eliminate waste. They keep resources within the economy when a product has reached the end of its life so that they can be productively used again multiple times, hence, creating further value.
In Europe, the EU Action Plan for the Circular Economy focuses on three key action areas: production, consumption, and waste management. On the production side, there is a need for more innovative and efficient processes. Simultaneously, consumers need to be provided with reliable information on the environmental impact of the products they are purchasing. To improve waste management, increasing plastic recycling is especially essential for the transition to a circular economy.
In his elaboration on material fluxes in a circular economy, Wünsch emphasised the need to increase the percentage of material actually recycled. Less than 25% of collected plastic waste is recycled and about 50% goes to landfills. Smarter waste separation is crucial to prevent recyclable plastics from ending up in landfills.
The seminar ended with a lively discussion on economic incentives that would help realise the system and the future of the circular economy, to which Wünsch highlighted three areas as being critical: market, society, and legislation. There needs to be economic pressure on waste, people have to think about how to recover materials, and we need laws to impose recycling in order to close the cycle.