2016/06/29 Dresden, Germany
Reporting by Atiqah Fairuz Salleh, Communications and Advocacy
Infrastructure is key to delivering public services such as water supply, wastewater treatment or irrigation. The sustainable financing of infrastructure, however, depends on whether capital costs can be recovered or if the utilities are able to sustain operation and maintenance costs. This often would be done through tariff payments or subsidies or both. Where public finance is concerned, it is necessary to ensure that funds are channelled appropriately and responsibly. Without transparent processes of public financing involving tendering, contracting and procurement, the sustainability of infrastructure may be compromised. Instead of funding the provision of water supply to a village, for example, a short-sighted cost analysis or corrupt practices in procurement could be costly. In the worst case, it might mean that the allotted public funds end up being allocated to a different project that brings greater personal benefit in the short-run as opposed to long-term benefits for society.
The concept of life-cycle costing, the consideration of all costs – environmental, social and economic – involved in the lead up to products or services, has been discussed extensively in academic literature for over twenty years. Yet, the approach is difficult to implement politically as it puts a spotlight on the benefits of lowering costs of different technology options. Conventional budgetary systems encourage "increases" in annual appropriations by local governments rather than plans that call for "reductions" based on the identification of cost-effective technical options. The Nexus Approach makes the trade-offs between what choices are efficient from the costs and technical options perspective and those that are expedient from the point of view of political choices that have to be considered while making decisions on infrastructure establishment, operation and maintenance.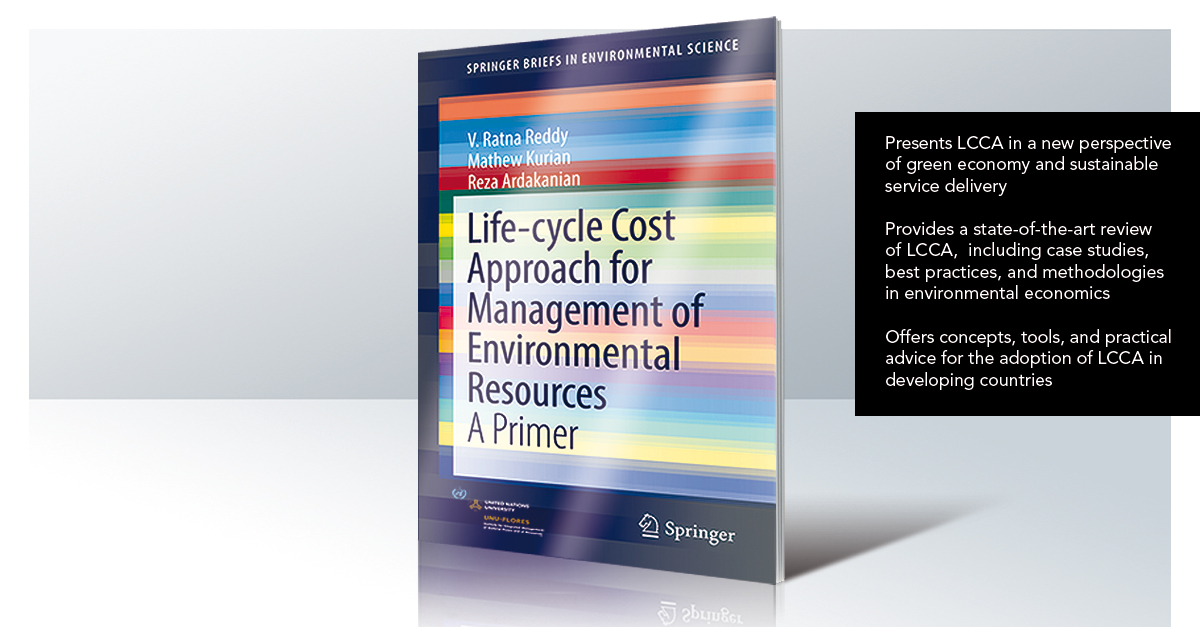 The Springer Brief Life-cycle Cost Approach for Management of Environmental Resources: A Primer (Reddy et al. 2015) discusses the rationale and relevance of the life-cycle cost approach (LCCA) with a view of advancing the Nexus Approach to the management of environmental resources. In particular the relevance of the approach is discussed from the perspective of project appraisal and asset management strategies. By adopting a systems approach to examining different cost components of infrastructure projects, the book discusses different approaches to environmental impact assessment and concludes by discussing data requirements and limitations through the analysis of case studies covering roads, water supply, and bio-ethanol.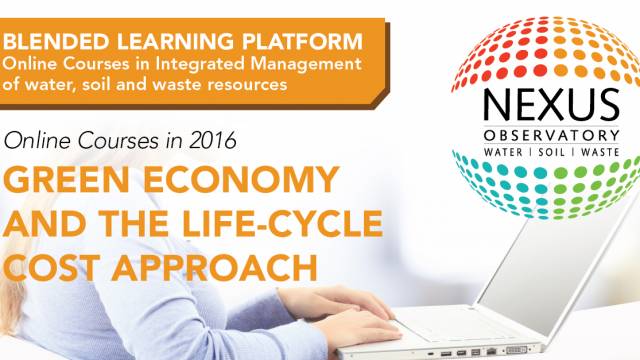 The case studies from this title will be used as learning material for one of the UNU-FLORES's online courses in integrated management of water, soil and waste resources. As part of the Green Economy and the Life-Cycle Cost Approach module, the Springer Brief will be instructive in providing participants with an understanding of why LCCA is essential to achieving the goals of sustainable development, in particular, in the management of environmental resources. The course will explore how LCCA can be mainstreamed into governance processes at all institutional levels from local to national, in order to increase the ability and willingness of decision makers to make informed and relevant choices between different types and levels of services. In particular, there is a focus on the rationale and relevance of LCCA in the context of developing countries. Gaining a grasp of the framework and concepts of LCCA through the online course, participants will be able to appreciate real-life applications of LCCA and identify policy challenges for mainstreaming life-cycle thinking.
Applications are currently open for the online courses.