2016/12/13 Tehran, Iran
Reporting by Atiqah Fairuz Salleh, Communications and Advocacy
Water scarcity and cost factors drive millions of farmers and other entrepreneurs to make use of wastewater. Globally, over 20 million hectares of agricultural land are irrigated this way. However, much of this practice remains unregulated and its safety uncertain.
On 5–7 December 2016 UNU-FLORES joined forces with the Islamic Republic of Iran to co-organise a scientific and capacity development workshop on the Safe Use of Wastewater in Agriculture (SUWA). Taking place at the Shahid Beheshti University in Tehran, the workshop aimed to enhance the UN Member State's national capacities to practise and promote the safe and productive use of wastewater.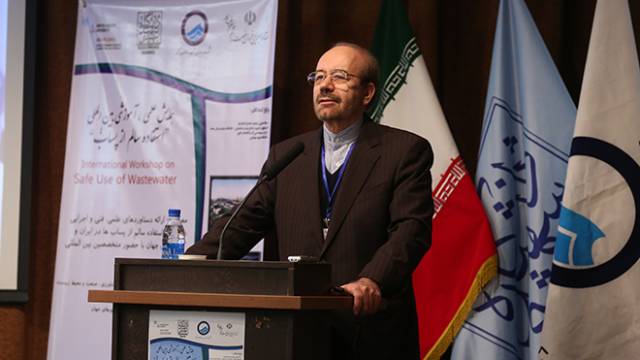 Vice Minister Sattar Mahmoudi, Ministry of Energy, welcomed international guests and workshop participants. Image: NWWEC
Iran is the 24th most water-stressed country and makes use of 70% of total renewed freshwater. Water scarcity only adds pressure on water demand in agriculture. Faced with these facts, and in the context of the water-food-energy nexus, SUWA brings numerous benefits; it improves food production and nutritional status, reduces fertiliser use, reduces energy consumption for groundwater pumping, and reduces pressure on freshwater resources.
Opening the series of sessions, Prof. Reza Ardakanian, Director of UNU-FLORES presented the capacity development perspectives of SUWA and the history and development of the SUWA project. In its second phase now, the project has moved from the first phase of Status and Capacity Needs Assessment to Capacity Development. It now aims to advance implementation of wastewater monitoring, programmes and guidelines on the safe use of wastewater in agriculture, and knowledge and good practices across regions, in addition to raising awareness about wastewater use in agriculture.
For long-term strategies and coherent policies to take effect, an integrated approach towards managing resources is imperative. SUWA is in fact one of the best examples of integrated resource management, spanning across the water-soil-waste nexus. While the process begins with waste, the output feeds back to water and soil. In his presentation at the workshop, Prof. Hiroshan Hettiarachchi, Head of the Waste Management unit at UNU-FLORES introduced SUWA and the Nexus Approach and its relevance for achieving the Sustainable Development Goals. He elaborated on how countries like Iran can benefit from the concept of the Nexus Approach in environmental resource management – the Nexus Approach can ultimately help us increase resource use efficiency.
The best possible team of experts gathered to share their knowledge in Tehran. The contributors included among others the KWR Watercycle Research Institute (The Netherlands), International Commission on Irrigation and Drainage (ICID), and the German Association for Water, Wastewater and Waste (Germany). Co-organised with Shahid Beheshty University, the National Water and Wastewater Engineering Company (NWWEC) of Iran, and Tadbir Economic Development Group, the workshop rounded up representatives from the wastewater management companies from all 31 provinces in the country, as well as ministerial and university experts.
Workshop participants received the sessions very well and expressed great interest in the nexus concept and its technical aspects. Field practitioners were especially interested in a ready-made package of methods/information they can rely on. Concluding the three-day workshop, participants visited the Middle East's largest wastewater treatment plant in South Tehran.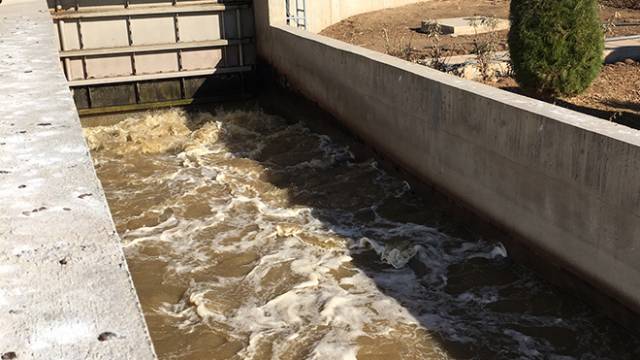 During the field trip, participants witnessed how wastewater is being treated. Pictured is incoming wastewater. Image: Hiroshan Hettiarachchi/UNU-FLORES
Wastewater irrigation is a reality and is used extensively worldwide. It will become more important in the future as the world becomes increasingly strapped for resources. Moving forward, UNU-FLORES's key partner, NWWEC has shown genuine interest in working together in implementing SUWA.
---
Further Reading
Hettiarachchi, Hiroshan and Reza Ardakanian. 2016. Environmental Resource Management and the Nexus Approach: Managing Water, Soil, and Waste in the Context of Global Change. Springer.
Hettiarachchi, Hiroshan and Reza Ardakanian. 2016. Safe Use of Wastewater in Agriculture: Good Practice Examples. Dresden: UNU-FLORES.