2016/11/04 Dresden, Germany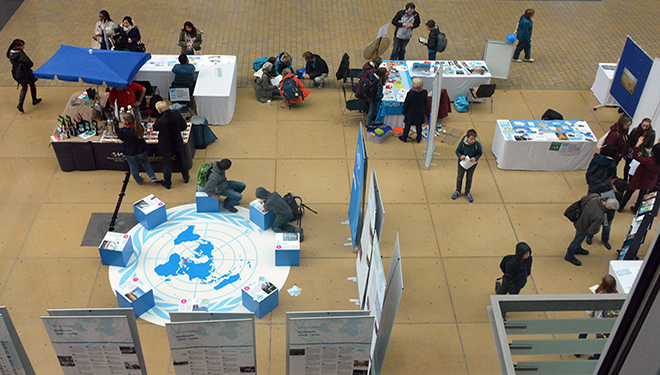 By Atiqah Fairuz Salleh, Communications and Advocacy
This year's celebration of UN Day culminated in a public fair on 28 October 2016 at World Trade Center Dresden, where UNU-FLORES is also based. Under the slogan "Discovering Sustainability – 17 Goals for a Better World", a variety of information stands and participatory activities were organised in the inner courtyard. Open to the public, schoolchildren and the local population of Dresden had a chance to learn about the United Nations, its tasks, and goals, as well as a chance to get acquainted with sustainability issues. Eva Jähnigen, Mayor for Environmental and Municipal Affairs in Dresden, welcomed guests early Friday morning to the fair with a timely reminder, "Dresden is becoming increasingly dense, but we must also pay close attention to our ecological qualities."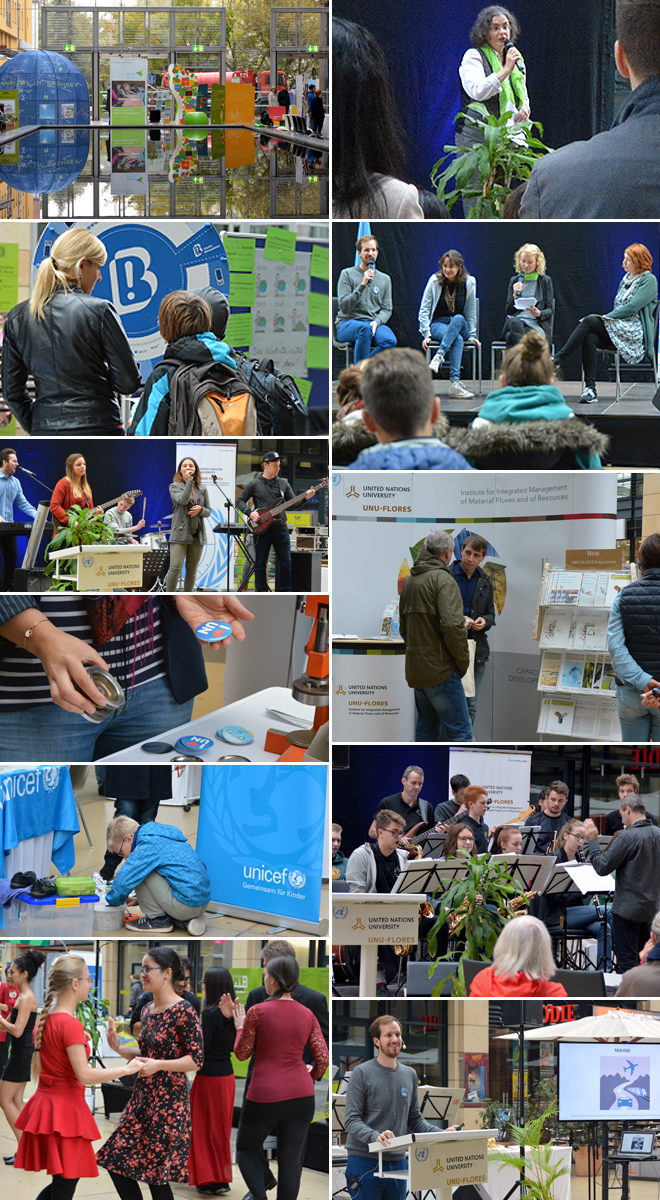 This year's UN Day fair attracted hundreds of visitors. UN agencies, including UNU, UNESCO, UNICEF, UNCTAD, UNHCR, WFP, and WHO, actively engaged with the public and provided information about the work and mission of the UN and their respective ongoing initiatives globally.
Two exhibitions, one on the UN's 70 years of history and another on the Sustainable Development Goals, were also featured this year. The UN Sustainable Development Goals, the focus of UN Day Dresden this year, were decided within the framework of the 2030 Development Agenda last year. They are centred on combating poverty and hunger, better healthcare, and quality education, as well as sustainable lifestyles. Over the next fifteen years, with these new Goals that apply universally to all, countries will mobilise efforts to end all forms of poverty, fight inequalities, and tackle climate change, while ensuring that no one is left behind.
As part of an initiative to raise public awareness about the Global Goals, we ran a social media campaign in which we engaged with Dresden locals who were present at the fair and talked to them about the Goals. The individuals we met at the fair shared with us which of the Goals they felt was most dear to them. The outcome of the interesting exchanges is captured on our Twitter feed.
Also featured at the exhibition were booths from TU Dresden, IOER, UFZ, DGVN, arche noVa, BUND, among others. The all-day event was accompanied with live music, a model UN meeting, games for children, and discussion rounds on sustainable development. TU Dresden also held the Sustainable Science Slam as part of the stage programme.
Happening parallel to the fair and stage programme and also throughout the week in schools were workshops on various topics ranging from human rights by Amnesty International to ecology by BUND. In total our partners reached out to 25 school classes, benefitting about 500 schoolchildren through the workshops.
In commemoration of the entry into force of the Charter of the United Nations, UN Day has been celebrated on 24 October worldwide since 1948, and continues to serve as a reminder of what global action can achieve. The UN Day programme in Dresden had commenced with the UN Spotlight Talk on "Resilient Cities" on 24 October 2016.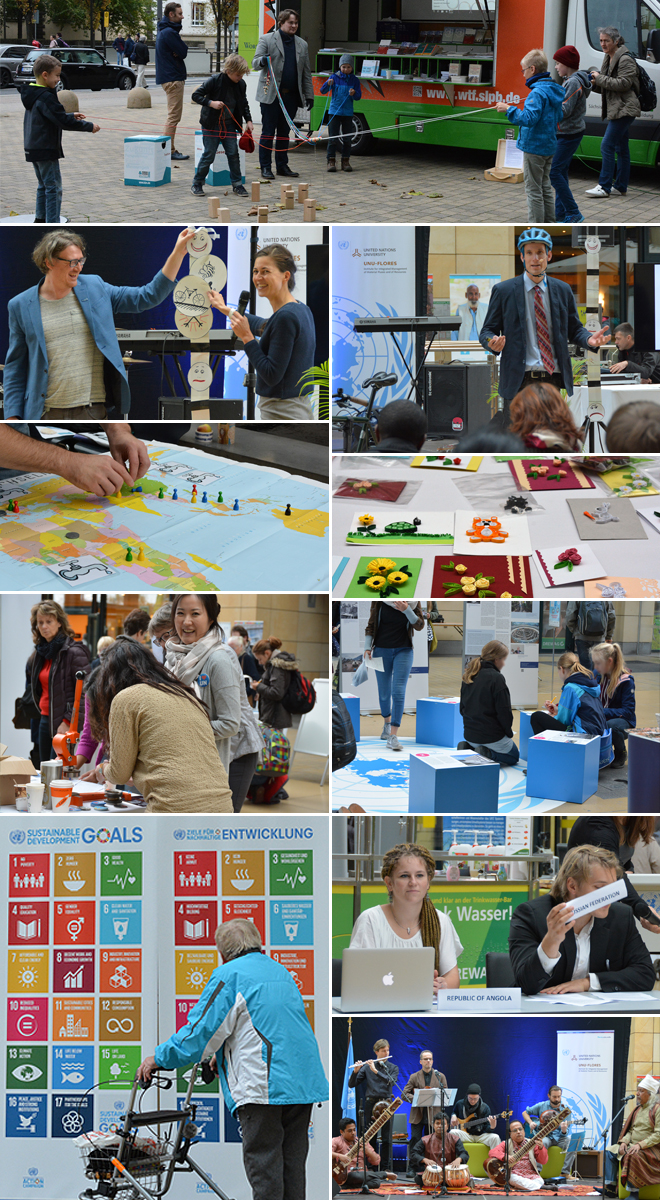 ---

Pupils from the Dresden International School produced a film about their visit to UN Day Dresden in cooperation with SAEK Dresden. Check it out here.