2018/12/13 Dresden, Germany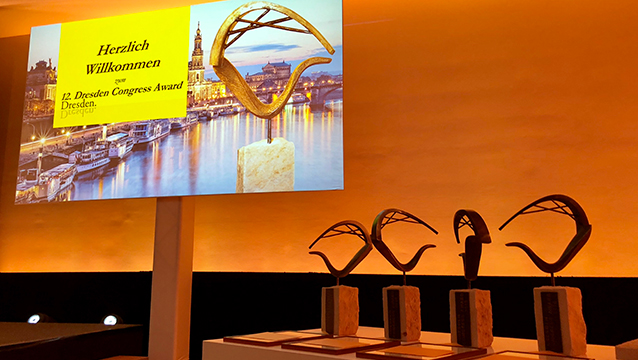 Every two years the City of Dresden honours dedicated scientists, entrepreneurs, and organisations that have successfully organised congresses and conferences in Dresden. On 15 November 2018, at the 12th Dresden Congress Award ceremony, UNU-FLORES and partners were recognised for the success and impact of the Dresden Nexus Conference 2017 (DNC2017).
A jury of representatives of the City of Dresden, the IHK Dresden, from academia and the local congress industry evaluated the 100 submitted applications. The awards were presented by the Lord Mayor of the City of Dresden, Dirk Hilbert, in the BÖRSE DRESDEN. For the first time, the 14-member jury awarded prizes in four newly created categories: Newcomer, Continuity, International, and Focus Dresden.
DNC2017 received second place in the category "Focus Dresden". The DNC was jointly organised in May 2017 by the Faculty of Environmental Sciences of the Technische Universität Dresden (TU Dresden), the Leibniz Institute of Ecological Urban and Regional Development (IOER), and UNU-FLORES. The second edition after the successful launch in 2015, DNC2017 attracted around 400 participants from over 50 countries to the Deutsches Hygiene-Museum in Dresden.
At the centre of the DNC series of events is the question how the sustainable use of environmental resources such as water, soil, and waste can be better achieved through linked approaches. "The topics of the Dresden Nexus Conference are very relevant all over the world. The fact that we can discuss them with many international guests here in Dresden and develop further approaches to solutions not only highlights the significance of Dresden as a conference location. Above all, this is also a sign of cosmopolitanism," said Professor Bernhard Müller, Director of IOER. Professor Karl-Heinz Feger, Dean of the Faculty of Environmental Sciences and Member of UNU-FLORES's International Advisory Committee adds, "The success and the great international visibility of our joint conference expresses the enormous potential for synergies in the strategic cooperation of the three participating institutions."