2016/03/01 Dresden, Germany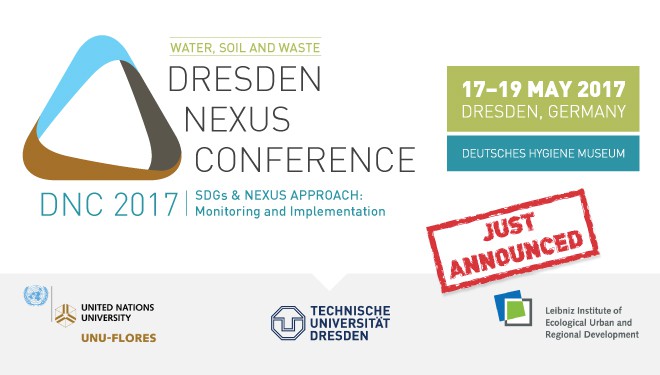 Building on the success of the inaugural Dresden Nexus Conference (DNC), the second biennial DNC is planned to take place 17 to 19 May 2017. The United Nations University Institute for Integrated Management of Material Fluxes and of Resources (UNU-FLORES), the Technische Universität Dresden (TU Dresden) and the Leibniz Institute of Ecological Urban and Regional Development (IOER) will organize DNC2017 under the umbrella "SDGs and the Nexus Approach: Monitoring and Implementation". Word-class international researchers, practitioners and politicians will debate the sustainable use of environmental resources under conditions of planetary limits and growing demand.
Conference stakeholders include the UN Food and Agriculture Organization (FAO), United Nations Environment Programme (UNEP), UN-Habitat, UNESCO, multiple United Nations University Institutes as well as renowned international and research institutions such as the Global Water Partnership, the International Hydropower Association, the International Commission on Irrigation and Drainage, The International Water Management Institute, the Helmholtz Centre for Environmental Research (UFZ), the Center for Development Research (ZEF), the Center for Environmental Systems Research, the German Federal Ministry for Education and Research (BMBF) and the Sachsen State Ministry for Higher Education, Research and the Arts.
A Call for Proposals will be released in early spring of 2016 and the website will be updated regularly with information on keynote speakers, registration and much more.
Discover more about the thematic scope of DNC2017 here.