2018/11/13 Dresden, Germany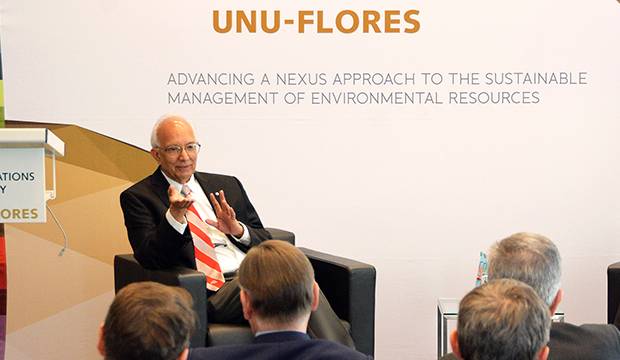 By Paxia Ksatryo, Communications and Advocacy
Through his contributions to agriculture and the sustainable management of world soils, Chair of the International Advisory Committee of UNU-FLORES, Dr Rattan Lal's esteemed reputation does not go unnoticed. On 28 October 2018, the Global Confederation of Higher Education Associations for Agricultural and Life Sciences (GCHERA) has awarded him with the 2018 World Agriculture Prize for his "exceptional and significant lifetime achievements" in the agricultural and life sciences.
Awarded at the Nanjing Agricultural University in the Jiangsu province of China, the GCHERA World Agriculture Prize aims to encourage the global development of education, research, and innovation in the agricultural and life sciences by recognising the distinguished contribution of individuals to this mission.
When presenting the award, GCHERA President John Kennelly highlights Lal's efforts to addressing climate change, food security, and water quality at a global scale. A Distinguished University Professor of Soil Science and Director of the Carbon Management and Sequestration Centre at the Ohio State University and Chairman of UNU-FLORES's Advisory Committee, Lal is renowned for two main issue areas: the management of the physical, hydrological, and mechanical properties of soil to minimise the risks of soil degradation, and the restoration of degraded and desertified soils through sequestration of atmospheric carbon dioxide in soil and vegetation. His highly regarded research in these areas has earned him his strong reputation in the field of environmental sciences.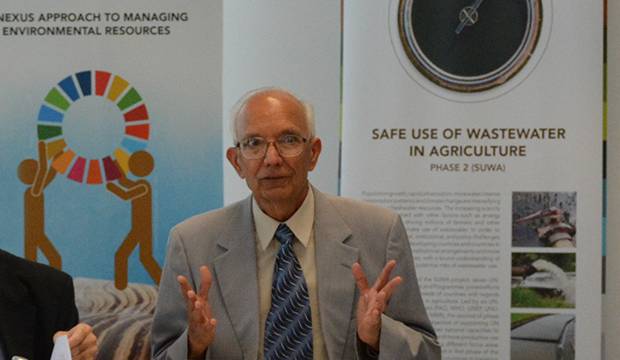 Lal's international experience on four continents, membership on multiple scientific boards and advisory panels, and fellowships across 50 years in the field is a strong testimonial to his commitment to advancing global food and water security. A cornerstone to the development of the Nexus Approach in environmental resource management through soil health management, carbon sequestration, and erosion control, Lal's keen insights were most recently expressed when he chaired the 5th Advisory Committee Session of UNU-FLORES from 11–12 July 2018. Discussing the work and strategic plans of the Institute and providing guidance for the next twelve months, Lal has been an indispensable vanguard of the growth of UNU-FLORES. Furthermore, he has substantially shared his expansive knowledge as a contributor to 818 journal articles, 485 book chapters, 16 books, and 425 keynote presentations, and mentored hundreds of students. With that, he has significantly contributed to a new era of not only distinguished leaders in academia, government, and industries, but also a consolidation of public education, thus entrenching his impact in his field.
Founded in 1998, The Global Confederation of Higher Education Associations for Agricultural and Life Sciences (GCHERA) is a non-profit organisation based in France. As a global network of national and regional Higher Education Associations made up of 15 higher education organisations, GCHERA participates in the debates surrounding the global challenges to agriculture, food, and natural resource management in the 21st century.
Every year, GCHERA awards two World Agriculture Prizes to faculty and academic members from higher education institutes in the fields of agricultural and life sciences. Dr Rattan Lal, together with Eric Danquah of the University of Ghana, was recipient of the World Agriculture Prize this year.
---
Further Reading
Lal, Rattan. 2013. "The Nexus of Soil, Water and Waste". Dresden, Germany: UNU-FLORES.
Lal, Rattan. 2016. "The Nexus Approach to Managing Water, Soil and Waste under Changing Climate and Growing Demands on Natural Resources." In Governing the Nexus: Water, Soil and Waste Resources Considering Global Change, edited by Mathew Kurian and Reza Ardakanian, 39–60. Springer International Publishing.