2017/08/05 Dresden, Germany
By Atiqah Fairuz Salleh, Communications and Advocacy
Honoured for his outstanding 50-year career in soil science, Chair of the International Advisory Committee of UNU-FLORES, Prof. Rattan Lal, receives this year's Sustained Achievement Award from the Renewable Natural Resources Foundation (RNRF).
The award given recognises a long-term contribution and commitment to the protection and conservation of natural resources by an individual. The 26th recipient of the award, Lal joins an eminent list of luminaries including former vice president of the United States Al Gore.
As Distinguished University Professor of Soil Science at Ohio State University, Lal continues to add to his decades of experience studying sustainable intensification and climate-resilience of agroecosystems, and working to advance global food and nutritional security through soil health management, carbon sequestration, and erosion control.
A researcher and mentor, Lal has made major contributions to advance both soil sciences and public education. Through 818 journal articles, 485 book chapters, 16 books, and 425 keynote presentations, he has enriched the world's knowledge on the sustainable management of soils. In addition, he has taught and mentored many batches of students and researchers at Ohio State University.
Lal's exceptional career also sees him serve many institutes. Among others, he serves as a scientific advisor to the Institute for Advanced Sustainability Studies in Potsdam, Germany, which initiated the Global Soil Week and representing 60,000 scientists, Lal is also the President of the International Union of Soil Sciences.
As Chair of the Advisory Committee of UNU-FLORES in Dresden, Germany, Lal has contributed towards the development of the Nexus Approach to the sustainable management of environmental resources. He has often discussed the functionality of soil and the interconnected issues associated with it, such as water, climate, food, and environmental security.
This echoes RNRF's member organisations' belief that sustaining Earth's renewable resource base requires a collaborative approach to problem-solving by their disciplines and other disciplines representing the biological, physical, and social sciences.
"Rather than a silver bullet, we must look for multiple paths. We cannot afford to be myopic and locked into a specific strategy whether organic farming, no-till agriculture, biotechnology, and others."
– Rattan Lal
At Dresden Nexus Conference 2017, he was expert commenter on the panel discussing case studies implementing the Nexus Approach with Multifunctional Land-Use Systems. Most recently, he chaired the 4th Advisory Committee Session of UNU-FLORES. Despite his calm and respectful demeanour, Lal has always been assertive and made insightful contributions.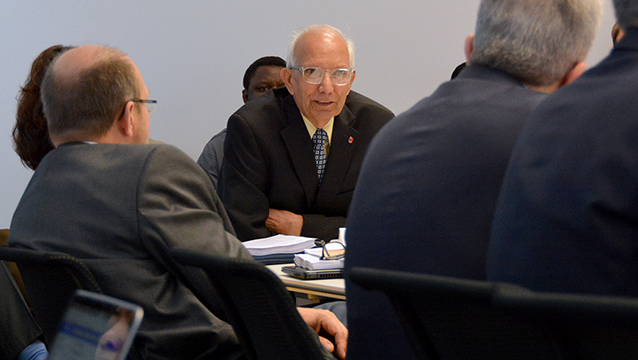 Through his various involvements, Lal has proven his track record in the promotion of sound scientific practices to soil research and policy over the years. Besides his extensive scientific contributions, he has also shown great dedication to the people on the ground.
"It has been an utmost honour not only to have such an accomplished individual leading our Advisory Committee, but also to have such an inspiring colleague at it," said UNU-FLORES Director Reza Ardakanian.
Founded in 1972, the Renewable Natural Resources Foundation (RNRF) is a non-profit, public policy research organisation. Rewarding the Winner of the 2017 Sustained Achievement, it aims at advancing science, the application of science, and public education.
The award will be presented on 15 November 2017 at the annual meeting of the RNRF Board of Directors in Maryland, United States.