2016/01/07 Dresden, Germany
A brief interview on the role of Nexus-oriented research in securing a sustainable future with Dr. Tamara Avellán.
Dr. Tamara Avellán has recently joined UNU-FLORES as a Research Fellow. She will lead the Water Resources Management Unit, working closely with the other units to further research on the Water-Soil-Waste Nexus. Among other tasks, she will be responsible for initiating, developing and implementing research projects and securing external funding in the field of water resources management. Ms. Avellán was born in Argentina and has Argentinean, German and Uruguayan citizenship. In 2014 she obtained a PhD in Geography and Remote Sensing from the Ludwig Maximilian University in Munich, Germany. Prior to joining UNU-FLORES she worked for the World Meteorological Organization in Geneva.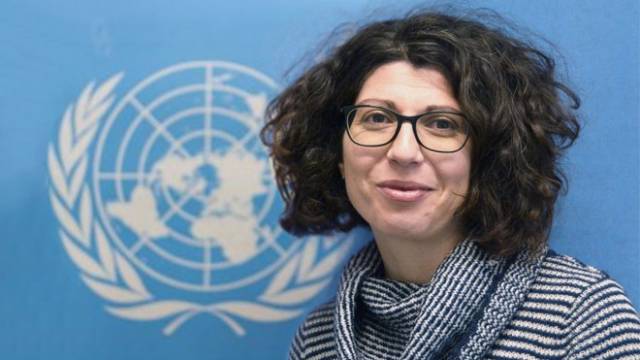 How does research contribute to discussions around solving environmental challenges?
The role of research in solving challenges is cyclical. Research is particularly important when it comes to uncovering the underlying issues of larger challenges. With regard to environmental challenges, understanding the underlying issues is particularly important. Usually change happens in a slow manner, if you ask people "Do you have an environmental challenge?" they'll say "no". Frequently, they don't even realize something is wrong because the environment has changed alongside them. They are not often not even aware of the hazards they are being exposed too.
This is the starting point for research, to observe and analyse developments and identify the challenges that have arisen and their underlying causes. But the contribution of research does not stop there; the next step is to – together with the affected communities – find solutions or appropriate adaptation measures. Affected communities are not just the local populations, but – particularly with regard to environmental challenges – can also be the national, international or most often transboundary communities. We have to understand the context and the interlinkages to develop effective solutions.
Closing the loop, once problems and solutions have been identified, research also contributes by highlighting the lessons learned in the process and – hopefully – as a final step in the cycle contributes to the prevention of similar environmental challenges in the future.
Have you been able to take this approach in your own research?
It was really my work in South America that showed me what research can contribute to solving environmental challenges. I was doing a basic water ecology study on a small creek – the Flores Creek in Uruguay – there was a large sewage treatment plant and my expectation was that the heavy water quality problems would all originate here. What I didn't expect to find was that further downstream there continued to be unexpected sporadic heavy spikes in nutrient loads. Looking closer, we found out that those were the points where there were milking parlours.
In closer discussion with the community we realized that when the agricultural revolution swept across Uruguay, the size of the milking parlours increased, but the infrastructure to handle the waste they produced did not. Once this waste got into the creek, it contaminated the aquifer that was used for sanitation and eventually a reoccurring cycle of ever increasing contamination emerged.
Having identified these underlying issues we were able to think about a solution. The solution we came up with was a constructed wetland. This is a low-impact facility that, at the appropriate point and with the endogenous plant species, fit right in to the natural landscape.
Taking a Nexus Approach and looking at the Water-Waste Nexus was clearly important in this work. At UNU-FLORES you will be looking at the Water-Soil-Waste Nexus, why is such an approach important?
I did a lot of work on the Water-Waste Nexus and in other projects on the Water-Soil interconnectivity. The challenge for me here will be squaring the triangle – really making the connection in my research between all three of these resources. In conventional scientific environments, we are all in our ivory towers and come up with brilliant solutions for a problem. But we rarely take the time to leave our towers and ask our neighbours what they are doing – whether they have looked at the same problem from a different perspective. Developing projects that truly connect all three resources will be challenging, but I am excited to have the opportunity at UNU-FLORES to work directly with colleagues from multiple disciplines on the same problem.
What is one change you would like to see happen to achieve a sustainable future?
In environmental discussions in the natural sciences, we understandably are always thinking of the problem from a natural science perspective. But achieving a sustainable future depends on economic forces and social dimensions, on how people see the world. People make changes in their lives because of economic incentives or social pressures. If we want to see change, we need to integrate the social sciences into our work, and think about how we induce change, what type of change we want and what the pathways to get there are. Social sciences and humanities are crucial partners for natural sciences for coming up with those solutions.