2020/08/14 Dresden, Germany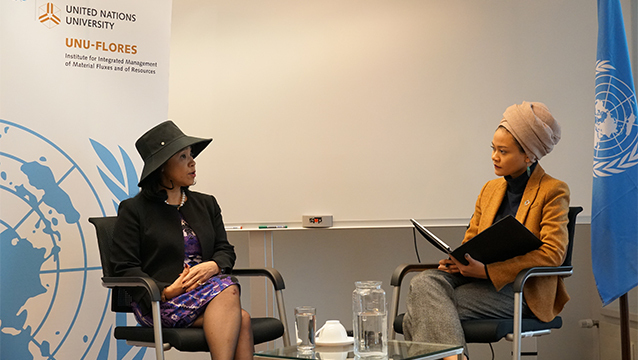 The theme of International Youth Day 2020 (12 August) "Youth Engagement for Global Action" seeks to highlight how engaging young people enriches institutions and processes and how this can be enhanced. Dr Shinobu Yume Yamaguchi, Director of UNU-IAS, shares her insights on the state of education for sustainable development and climate action. Dr Yamaguchi specialises in international development and cooperation and education policy and reform, among others.
---
By Atiqah Fairuz Salleh, Communications and Advocacy

With the Fridays for Future movement, there has never really been such youth empowerment in history. As an education expert, what do you think is missing to better advocate for sustainable development and climate action?
We really need to have a sense of urgency to make things happen and the sense of ownership has to be in every single person on the planet. In terms of education, it is not an easy task. Education systems differ from country to country. So, when we say "leave no one behind" we need to consider the individual condition and context. In a survey to monitor the progress of SDG 4 (Quality education) across the Asia Pacific, data on two-thirds of the indicators are found to be lacking in the region. We try to move from the quantitative to the qualitative approach, which is very much needed. Measuring quality is not easy but we have to strive to achieve it. United Nations University can really contribute through research and by mobilising the intellectual input – it is in an important position where research is aimed at policy impact.
Standards and quality of education indeed vary from country to country. What efforts are in place to strive towards some form of a minimum level of education for sustainable development at the global level?
Globally, there is a very important movement since 2005 called Education for Sustainable Development (ESD) and in 2014 a Declaration requires that the Member States utilise education and learning to promote sustainable development of the society. During the UNESCO general conference last year, a new framework of ESD beyond 2019 was adopted, with a greater focus on the environment and climate action.
UNU-IAS contributes to achieving SDG 4. At UNU-IAS, we have implemented a programme called Regional Centres of Expertise (RCE). Through 175 regional centres with expertise on ESD in 62 countries, we work together to mobilise local expertise to formulate local actions. The topics covered vary from one regional centre to another.
For example, when Georgetown in the United States was hit hard by a hurricane, to revitalise the community, the RCE initiated the mobilisation of local resources by coming up with a database for the prevention of disaster risk management. So, this innovation centre for expertise in education for sustainable development goes beyond informal education. It is really community learning by action. With our experience, we shall provide strong policy impact at the national, regional, and municipal levels, both formal and informal.
The reach of the ESD project through the global RCE network is rather impressive. In general, what do you find unique about UNU and how can the world benefit from it?
I see a lot of opportunities. With 400 researchers in different parts of the world working on a range of topics, there is much to explore across the UNU network. Through all the research and implementation we conduct, we are really aiming for transformative change. It is not development anymore; but it is really the transformation of minds, actions, perceptions, and behaviours.
Speaking of transformation, the first International Day of Education proclaimed by the UN only happened last year in recognition of the importance of working to ensure basic inclusive and equitable quality education on all levels. For something so basic as education, what took so long for this recognition?
This recognition only occurred then but in fact, one of the major international movements Education for All (EFA) started as early as 1990, with the collaboration between UNESCO, UNICEF, and the World Bank. I had just started to work for UNESCO at that time. This EFA movement later evolved into Education for Sustainable Development (ESD). We had goal number 2 (Achieve universal primary education) as part of the Millennium Development Goals in 2000 and now SDG 4. There has been a big push for making education one of the major goals of sustainable development.
We need 400 million dollars per year to support SDG 4 per year. With a financing gap of that amount, we need to look for realistic sustainable funding. We have to review the current funding and explore other opportunities. Nowadays, we talk a lot about financing education through public-private partnerships (PPP). We need to invoke new schemes to finance education.
There is always the talk of new financing of development activities, yet education is not a part of it. When we talk about transformation, if we cannot provide quality education for the next generation, then I don't think we can talk about the other major issues.
With the participation of more stakeholders such as the private sector, it would be necessary to ensure that no one party dictates the agenda.
Yes, it's very important that we have multi-stakeholder involvement – not just the government and private sector, but also international organisations, including the development bank. The government ultimately initiates the roadmap, but we have different institutions to cooperate to achieve this plan.
What are your personal hopes and visions for UNU?
My personal vision is to create an institution of quality – with researchers and educators who ask questions and eventually contribute their expertise to the planet. That's my personal vision. The vision for UNU-IAS has to be a shared one. I am here to create a shared vision with my team based on three values: quality, integrity, and transparency.