2017/09/30 Dresden, Germany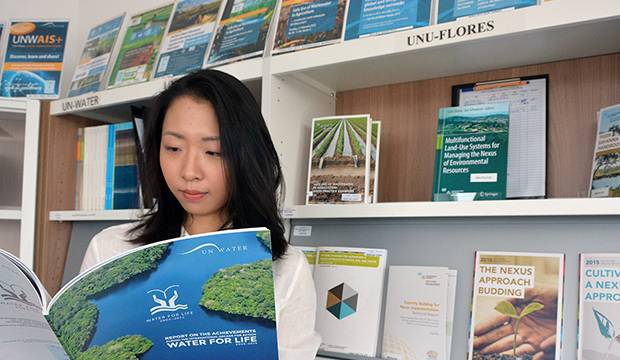 UNU-FLORES offers a rigorous internship programme giving students and recent graduates the opportunity to develop new skills and knowledge in a constructive setting for the practical application of their capacities acquired through their studies. Acquiring hands-on experience, interns work in a variety of areas from academic research, event organisation, communications and advocacy, and institutional development and administration. In this series, we feature the young brilliant minds that have played a big part in many of our activities and events. In this interview, we talked to Haeun Kim from the Republic of Korea, who worked with the Water Resources Management Unit (WRM) and Waste Management Unit (WM).
Tell us about yourself. What is your motivation to do an internship with UNU-FLORES?
To define myself in a word or a phrase, I would describe myself as a 'keen-minded humanist'. I studied policy studies and economics at the undergraduate level. With the understanding that development is a progression toward expansion and fortification of political, economic, and social freedoms, I have tried to build up a thorough conceptual understanding of the framework of challenges and intricacies that the world faces as it strives for sustainable development. Ever since I perceived that the environment plays a critical role concerning development issues, I have ventured to expand insights through several activities and the internship at UNU-FLORES was one of those. Eager to understand the complexity of a problem with regard to different socio-technical/socioecological conditions and to learn how to devise an appropriate solution considering both hard and soft sciences, I applied for the internship at UNU-FLORES.
What are some of your day-to-day responsibilities? What types of projects do you work on?

I worked with both WRM and WM at UNU-FLORES. I participated in different projects. To name a few, the Latin America SludgeTec research project (SludgeTec) and Water Decade research. For SludgeTec, I looked into topics related to water and sanitation issues in Latin America using the sociopolitical lens. The Water Decade research was about analysing the goals and achievements of the past two UN-Water Decades (International Drinking Water Supply and Sanitation Decade from 1981 to 1990, Water for Life from 2005 to 2015) as UNU-FLORES is one of the steering UN entities for the planning of the third Water Decade starting in 2018. I had very little knowledge on water sector development before starting the internship but through conducting several water-related projects, I learnt about the historic trends in the development of the water and sanitation sectors, which helped me a lot to understand the current topography of the field.
Also, coming from a social science background, communicating with natural scientists or engineers was barely possible before my time at UNU-FLORES. There was a lack of opportunity to talk about the different views and definitions toward the world and a certain topic. But, as it is underscored in the discourse of sustainability, breaking down the silos and thinking in a multifaceted but integrated manner is very much required. Working at UNU-FLORES – where such interaction was commonplace – has truly been a unique experience.
What kind of skills do you need to be successful at your internship?
Being successful at anything has required the best of me, meaning I have exerted every effort with every skill I have. But if I must name just a few, I would name two skills – meticulousness and questioning. First, meticulousness is one of the major qualities that an intern must have. The intern is there to support a project, not to be supported by the co-participants. To do your own part, to check where you are at a certain moment in the midst of a project, and to meet the deadlines of several and different kinds of works, working thoroughly is very important. Questioning is important as well. To learn more than what is given to you, questioning about your tasks, projects, and even knowledge is very important. It would improve your own understanding of the project that you partake, and could also give you more work because you should solve the question you asked which I think is a good thing!
What are some words of wisdom you'd give to anyone aspiring to be in your position?
UNU-FLORES is a place where you can get as much as you wish. Have a clear vision of what you want to achieve at UNU-FLORES and believe in yourself, but with a humble mind always eager to learn. "Ask, and it shall be given you; seek, and ye shall find; knock, and it shall be opened unto you!"