2016/04/20 Dresden, Germany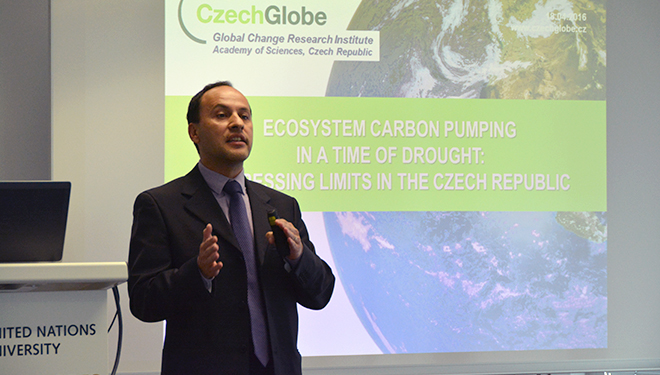 The 10th Nexus Seminar that took place on 18 April 2016 at UNU-FLORES, was held by Dr. Manuel Acosta from the Global Change Research Institute, Czech Republic (CzechGlobe). His talk entitled Ecosystem Carbon Pumping in a Time of Drought: Addressing Limits in the Czech Republic highlighted the effects of droughts on CO2 fluxes– uptake and storage versus emission – in selected ecosystems in the Czech Republic.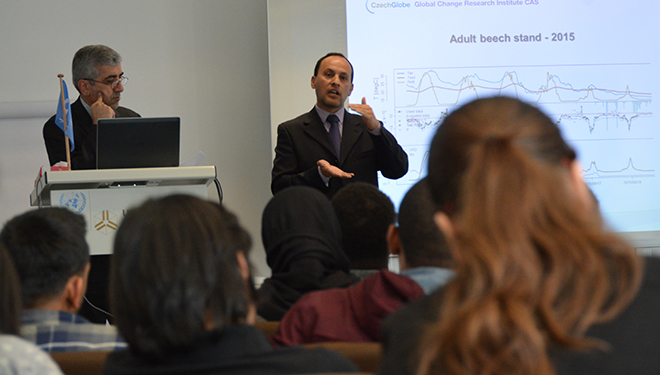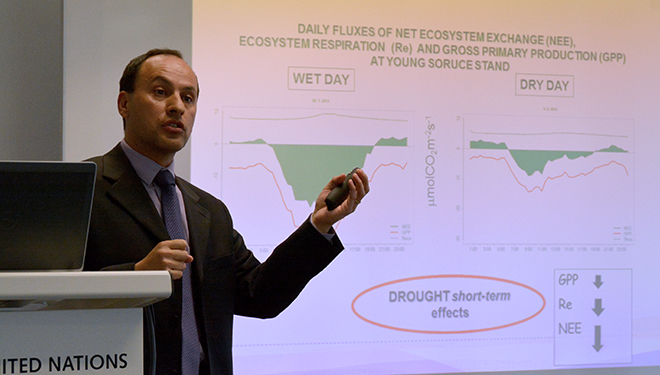 Dr. Acosta presented data from mountainous and highland areas covering spruce forests and beech forests based on the Eddy Covariance Technique to calculate CO2 fluxes. The data showed the differences in the ability of an ecosystem to adapt to periods of drought and the respective level of biomass production. He emphasized that the past few years can be considered as a time of drought in the Czech Republic, which require management options that ensure uptake of CO2 while minimizing emissions through an ecosystem.
Dr. Acosta demonstrated short-term versus long-term effects of drought on the net ecosystem exchange, which is the balance between respiration (CO2 source) and primary production (CO2 sink). Without water stress this balance is negative, making forests a sink of CO2. Short dry periods will shift the balance towards less uptake capacities. During longer drought periods soil moisture is the key factor for the adaptation capacity of an ecosystem. Particularly long dry periods during summer 2015 resulted in positive net ecosystem exchange: forests turned into CO2 sources. Comparing different types of forests, Dr. Acosta highlighted that beech forests can adapt better compared to the traditional Norway spruce forests, as they are supported by a root system that can extract water from groundwater and therefore increase the systems' resiliance. The research of Czech Globe has great relevance to decisions made by stakeholders as it can offer management options that deal with future droughts and the changing water distribution throughout the year across the Czech Republic.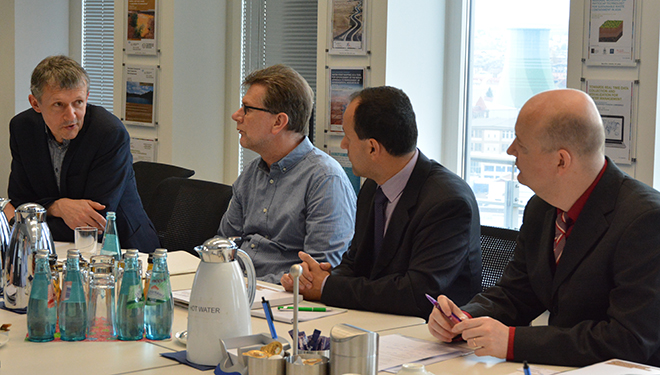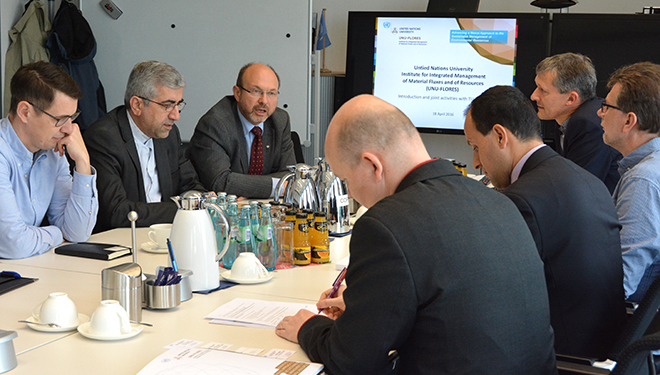 The Nexus Seminar lecture took place within the framework of a visit from Dr. Acosta and Mr. Jiří Kolman (Scientific Secretary) from the Global Change Research Institute (CzechGlobe) of the Czech Academy of Sciences to UNU-FLORES. The main focus of this visit was to explore the possibility of collaborative research and capacity development projects amongst UNU-FLORES, CzechGlobe and the Technische Universität Dresden. Various areas for cooperation were identified and it was decided to develop a legal framework for such activities and to be finalized during a follow-up visit to CzechGlobe in Brno.