2018/06/28 Dresden, Germany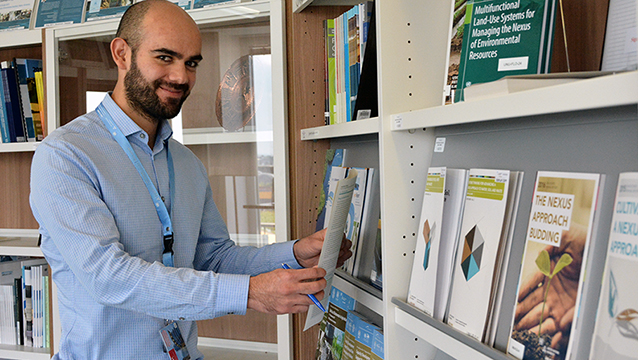 UNU-FLORES offers a rigorous internship programme giving students and recent graduates the opportunity to develop new skills and knowledge in a constructive setting for the practical application of their capacities acquired during their studies. Through hands-on experience, interns work in a variety of areas from academic research, event organisation, communications and advocacy, and institutional development and administration. In this series, we feature the young brilliant minds that have played a big part in many of our activities and events. In this interview, we talked to Nestor De la Paz Ruiz from Mexico, who worked with the Water Resources Management unit.
Tell us about yourself. What is your motivation to do an internship with UNU-FLORES?
As a postgraduate student in Geomatics at the Center for Research in Geography and Geomatics (CentroGeo) in Mexico, I had the opportunity to get involved with the local government in Mexico City to support them in improving the polluted condition of a river. Such experience changed my perception about the complexity of implementing integrated water management – it requires a big effort, not only from diverse fields of sciences and levels of government but also society. I was pleasantly surprised to learn that UNU-FLORES deals with this topic and that I could support them in their mission while obtaining experience and helping the environment.
What types of projects do you work on? What's your favourite part of work/highlight of your internship?
Working as a team member for the Water Resources Management Unit to develop the "Constructed Wetlands Knowledge Platform" (CWKP) was an unbelievably positive experience, as it required a strong process of communication to decide the best options for this project. Some tasks include engaging with literature on constructed wetlands, supporting the development of a spatial data infrastructure for constructed wetlands in order to develop a database, and setting up a WebGis platform to allow for the uploading and downloading of information. The positive experience around our collaborative efforts as well as the friendly environment of all the staff were some of my highlights.
What kind of skills do you need to be successful at your internship?
As the CWKP was a new project for me, it required some preliminary reading, planning, and improvising during its development. Working as a team with an open and creative mind was essential to get through some tasks. Strong critical thinking about the development of the tasks was really helpful to prevent inconvenient situations. For this project it was key to identify the critical tasks, set their priority, and define them clearly to establish good communication, working in a cohesive team.
What are some words of wisdom you'd give to anyone aspiring to be in your position?
As a first opportunity working for an international institution, surrounded by highly qualified professionals, this has been a unique experience that has strongly influenced my academic and personal path. Some advice that I could mention, is to be self-confident of your professional skills, as some challenges may look big until you begin working on them to realise that you are capable of overcoming them. It is useful to keep an active mind understanding the challenge, creating a plan to face it, and implementing it. And the most valuable, have fun, enjoy life, your colleagues, and the city!