2017/06/02 Dresden, Germany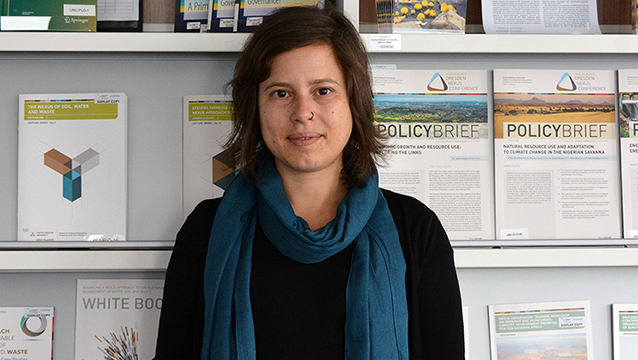 UNU-FLORES offers an internship programme giving students and recent graduates the opportunity to develop new skills and knowledge in a constructive setting for the practical application of their capacities acquired through their studies. Through a hands-on experience, interns work in a variety of areas from academic research, event organisation, communications and advocacy, and institutional development and administration. In this series, we feature the young brilliant minds that have played a big part in many of our activities and events. In our first interview, we talked to Joana Lapao Rocha from Portugal, who worked in the Soil and Land-Use Management Unit (SLM).
Tell us about yourself. What is your motivation to do an internship with UNU-FLORES?
As a PhD candidate in the field of sustainable use of resources in agriculture, the work developed at UNU-FLORES targeted at developing countries was a great motivation for me to apply for this internship. It is professionally very gratifying to see that our work can be applied directly to improve the well-being of communities.
What are some of your day-to-day responsibilities? What types of projects do you work on? What's your favourite part of work?
On a daily basis, I had the opportunity to do research in the field of agroecology applied to East Africa, specifically Tanzania, concerning smallholder farm households. I work on farm household typology, which will be the basis for an agricultural model to be developed later. My favourite part of the work was the constant chance to brainstorm with such an international and diverse group of scientists at UNU-FLORES.
What kind of skills do you need to be successful at your internship?
To be successful at my internship with SLM, it is fundamental to have a sound scientific background, but most importantly, it is necessary to be willing to overcome difficulties. Every work presents a challenge. This can take the form of data availability or having to explore a new topic that one is not yet familiar with. This being said, colleagues at UNU-FLORES have always been readily available to help me out with anything I needed.
What are some words of wisdom you'd give to anyone aspiring to be in your position?
For someone who is still doubtful about applying for an internship at UNU-FLORES, I would definitely recommend you to do it. You will have a great experience. The projects developed at this Institute are very interesting and are targeted at the community, so it is possible to see the results of your work being applied.
The team I got to work with is by far the most pleasant team I have worked with. The researchers are an easily accessible group of very knowledgeable professionals and the PhD researchers are open-minded people with whom you will quickly become friends with.