2019/08/26 Dresden, Germany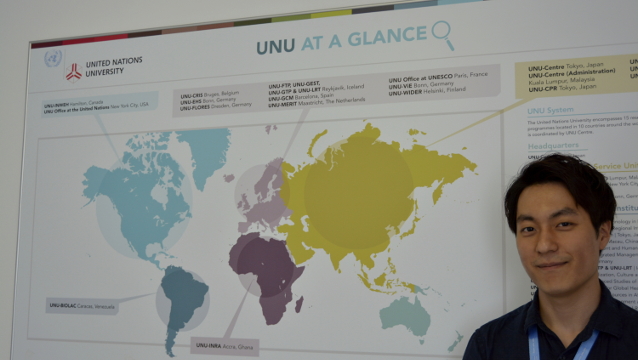 UNU-FLORES offers a rigorous internship programme giving students and recent graduates the opportunity to develop new skills and knowledge in a constructive setting for the practical application of their capacities acquired during their studies. Through hands-on experience, interns work in a variety of areas from academic research, event organisation, communications and advocacy, and institutional development and administration. In this series, we feature the young brilliant minds that have played a big part in many of our activities and events. In this interview, we talked to Jiwon Kim from Korea, who worked with the Water Resources Management unit.
Tell us about yourself. What is your motivation to do an internship with UNU-FLORES?
I was always captivated with environmental problems because it is a collective issue that concerns not only selective nations, but all of humanity. This means that environmental problems tend to be transnational issues, where nations must cooperate with each other in order to tackle the issue effectively.
In reality, however, transnational cooperation on the environment is not so easy. Stakeholders must often prioritise their national interests/agenda, while setting aside efforts for the environment. Furthermore, perception gaps between policymakers and environmental scientists hinder any fruitful outcome for a better tomorrow.
With research interests mentioned above and international relations as a background, I was motivated to pursue an internship at UNU-FLORES to further my academic knowledge and practical experience in the environment sector.
What types of projects do you work on? What's your favourite part of work/highlight of your internship?
The main project I worked on was on 'citizen science' within the context of water resource management. In short, citizen science is a method in which citizens get involved not only in the scientific data gathering process, but also in policymaking processes as well. In a way, it's the start of international cooperation on environmental issues by citizens.
The pros of citizen science dictate that a massive amount of scientific data can be gathered through voluntary citizens. Retrieving the data collected by citizens, scientists can make an analysis that is more generalisable. On the other hand, the cons of citizen science point to limited scientific training of citizens. Skeptics argue that data gathered by citizens may be flawed due to their lack of training in gathering complex scientific data.
Despite the initial lack of my knowledge in environmental science, I was genuinely intrigued by the fact that I could approach environmental issues through the lenses of social science. In this sense, citizen science is a policy tool of social science that makes transnational cooperation possible.
Other than daily tasks on the citizen science project, I would definitely say a highlight of my internship was in extending a precious human network with colleagues. Coming from various academic backgrounds and nationalities, I still cherish conversations I had with colleagues over drinks after work.
What kind of skills do you need to be successful at your internship?
The most important skill one would need in order to be successful at a UNU-FLORES internship is the ability to communicate clearly and coherently. As a research intern at a think tank, work often tends to be in the form of writing and contributing towards research. It is quite important for the intern to be able to clearly express her/his opinions when working on a research paper with academics, for example, as well as to raise questions to make sure they are on the same page. Furthermore, interns must be open-minded and proactive in doing their jobs. In other words, they must not wait for opportunities to emerge, but to proactively look for potential opportunities.
What are some words of wisdom you'd give to anyone aspiring to be in your position?
First, I cannot emphasise enough how an internship at UNU-FLORES has enriched me not only academically, but also professionally. Under this premise, I would like to advise future interns to draw a bigger picture of their career and how they can create synergy through an internship at UNU-FLORES. If one is able to draw even a rough picture of what she/he wants to do after the internship –be it pursuing higher education or getting a job – the person will be able to gain much more from the experience.
Second, I would strongly advise future interns to expand their social network and cherish the friendships with colleagues at the office. For those aiming to pursue a career in international organisations and in the environment field, the network created at UNU-FLORES will be an invaluable asset. Even after the internship, your colleagues can become your mentor and provide you with guidance as you journey along your respective careers.