2018/10/08 Dresden, Germany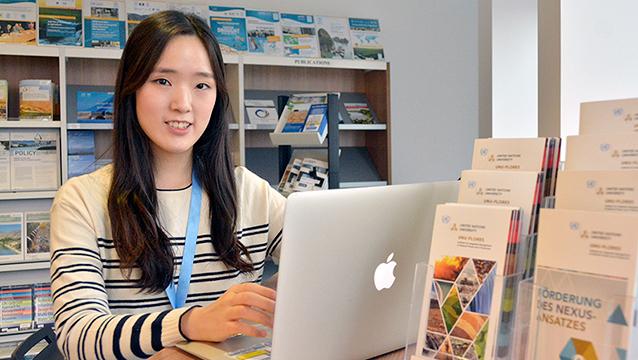 UNU-FLORES offers a rigorous internship programme giving students and recent graduates the opportunity to develop new skills and knowledge in a constructive setting for the practical application of their capacities acquired during their studies. Through hands-on experience, interns work in a variety of areas from academic research, event organisation, communications and advocacy, and institutional development and administration. In this series, we feature the young brilliant minds that have played a big part in many of our activities and events. In this interview, we talked to Sohyeon Ryu from Republic of Korea, who worked with the Waste Management unit.
Tell us about yourself. What is your motivation to do an internship with UNU-FLORES?
I studied political science and international studies and economics for my undergraduate studies at Yonsei University, Seoul and have just graduated very recently. After taking the course "Environment and Energy Politics", I developed an interest in sustainable resource use from a social scientist's perspective (i.e. policies, regulations, and participation). I have participated in several academic activities and am interested in the role of international or intergovernmental organisations in sustainable resource use. Additionally, as a social sciences student, I wanted to work with natural scientists who I can collaborate with. UNU-FLORES is the right place for that and thanks to the partnership between UNU-FLORES and the Korea Environment Corporation (K-eco), I was able to do an internship here.
What types of projects do you work on? What's your favourite part of work?
As a research intern for the Waste Management unit, I take part in my unit's projects and publishing process. I have supported in the publishing of a policy article on Waste-to-Energy which my unit had been developing for a few months. Recycling is the absolutely preferred way of treating waste but when that is not possible, the Waste-to-Energy process is better than dumping in landfills. I was very happy and learned a lot from working as a team with awesome colleagues of different backgrounds. I also conducted research on solid waste management and ways to enhance it in developing countries. I co-authored a peer-reviewed journal article on this focusing on Latin American and Caribbean countries, for example, where urbanisation is rapidly increasing. My favourite part of work is to chat with my supervisor, Prof. Hiroshan Hettiarachchi, and fellow interns about my work. It is through such interaction that I get better ideas and more critical eyes on my work, which help me progress.
What kind of skills do you need to be successful at your internship?
Working at UNU-FLORES requires strong reading and writing skills as well as logical thinking and academic ethics. A good knowledge of one's field is basic and being able to work independently and creative thinking are a plus. Along with these academic skills, interns at UNU-FLORES need to be open-minded to different cultures.
What are some words of wisdom you'd give to anyone aspiring to be in your position?
I learn so many things here at UNU-FLORES and I believe this experience will be a good start to my career journey. Colleagues at UNU-FLORES always support interns to achieve their best. So, I would recommend future interns – as I did myself – to set simple goals (at least one) and try to achieve them here.