2018/10/29 Dresden, Germany
By Atiqah Fairuz Salleh, Communications and Advocacy, and Mauricio Nevado, Water Resources Management
24 October marks UN Day. On this day, the world commemorates the founding of the United Nations (UN) seventy-three years ago. To mark the international day of observance this year, UNU-FLORES and local partners organised the fifth installation of UN Day Dresden around the theme "Climate Action" – Goal 13 of the Sustainable Development Goals (SDGs).
The five-year average global temperature from 2013 to 2017 was the highest on record – according to the World Meteorological Organization (WMO). Climate change alters rainfall distribution and causes oceans to acidify and their levels to increase.
As a result, we experience more extreme events, such as droughts, changes in our food chain, and forced migration from coastal areas. In tandem with these developments, climate science has advanced to equip us with the knowledge and skills for what needs to be done.
We know the facts. We have the possibilities and capabilities.
We need a change in mindset.
This was the call to action by Dr Johannes Cullmann, Director of Climate and Water at WMO during the UN Spotlight Talk that took place as part of the UN Day Dresden celebrations on 25 October 2018. He spoke to a fully booked hall at the Dresden City Hall.
Established in 1950, WMO is the UN system's authoritative voice on the state and behaviour of Earth's atmosphere. In his talk, Dr Cullmann shared some of the latest findings in climate research and related them to actions that needed to be taken globally and locally. Referring to the SDG Index and Dashboards Report 2018, when it comes to SDG 13, in most parts of the world, challenges remain, including in Germany. "While Germany is often regarded as a leader in environmental initiatives, it is in fact not quite leading the world in the reduction of CO2 levels," reflected Dr Cullman candidly and pragmatically.
The UN Spotlight Talk was opened by Deputy Mayor Eva Jähnigen and UNU-FLORES Director Edeltraud Guenther, whose welcoming remarks both presented an optimistic future as we work together towards climate action. Speaking from the local perspective on the topic, Deputy Mayor Jähnigen highlighted the need to galvanise individuals from as many different layers of society in our collective efforts as possible.
"From low-wage workers to mothers and fathers, they should all be included in our initiatives towards sustainable development."
– Eva Jähnigen, Deputy Mayor for Environment and Municipal Utilities,
City of Dresden
During the panel discussion, there was consensus on the need for broader coordinated efforts at all levels. Deputy Mayor Jähnigen urged for creating a new culture with a change in habits and behaviours – climate action ought to be as natural a task as the provision of drinking water for citizens. Dr Cullmann emphasised the importance of social justice as a prerequisite for achieving sustainable development. Through greater awareness raising and education, we will be better able to equip citizens with the tools to participate in decision-making processes.
Emceed by Julia Leuterer, who leads Local Agenda 21 for Dresden e.V. – a local organisation that initiates dialogue and mobilises the community towards achieving a sustainable future and partners UNU-FLORES in the organisation of the annual UN Day Dresden – the evening event attracted over 260 registered participants. Other local partners include City of Dresden, the German United Nations Society – for Saxony, Saxony-Anhalt and Thuringia e.V. (DGVN), UNICEF Working Group Dresden, and Lions Club Dresden Agenda 21.
The UN Spotlight Talk also included the 19th award ceremony of the Lokale Agenda 21 für Dresden e.V. and Lions Club Dresden Agenda 21. This year the awards that honour local sustainability initiatives went to the projects "Kunstoffschmiede" by Konglomerat e.V. and "Kinder- und Jugendhaus PIXEL" by the Diakonisches Werk-Stadtmission Dresden e.V. The Audience Choice Award went to arche noVa. A Special Award was given to the project "Sachsen im Klimawandel" by the HdK für Umwelt – Bau – Verkehr Dresden e.V.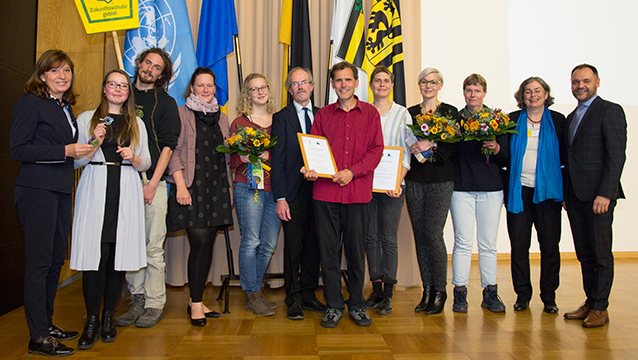 The UN Spotlight Talk was accompanied by music by Ezé Wendtoin from Banda Internationale and ended with a celebratory reception and an exhibition on the UN Sustainable Development Goals. As part of the week-long line-up of activities for UN Day Dresden 2018, local organisations offered lectures and workshops in public schools in Dresden on UN-related topics under the theme "UN in Schools". Over 400 students from 16 different classrooms took part in the activities.
More photos of and updates on the UN Day festivities are available at #UNDayDresden and our Flickr album.