2016/10/19 Dresden, Germany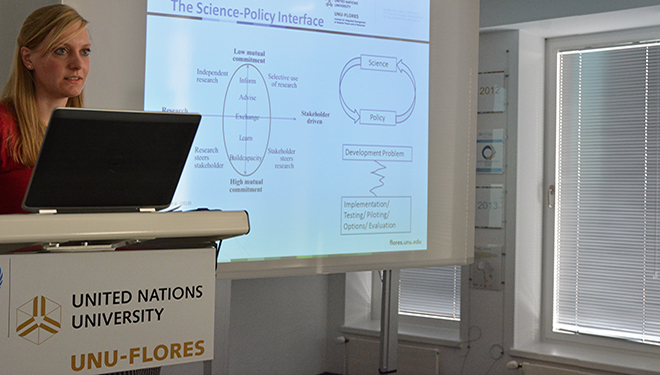 Reporting by Atiqah Fairuz Salleh, Communications and Advocacy
Researchers should not shy away from engaging in negotiation processes. By focusing on decision makers and cooperation processes, we can strengthen the science-policy interface. Where nexus knowledge and learning increases, it is more likely that the Nexus Approach be applied and operationalised.
These are among the takeaways from the 15th Nexus Seminar, a seminar series jointly organised by UNU-FLORES and TU Dresden. Kristin Meyer, Research Assistant with the Capacity Development and Governance Unit at UNU-FLORES, presented on "Fostering Regional Cooperation through Policy-Relevant Nexus Research".
Meyer addressed this matter against the apparent dissonance between theory and practice in cooperation. At times, even when all the factors for successful cooperation appear to be present, the outcome falls short of expectations in reality. Challenges are of a diverse nature and include negotiation power, capacities, competences, beliefs, and perspectives of stakeholders.
Providing context, Meyer explained that research and capacity development activities at UNU-FLORES focus on increasing the understanding of synergies and trade-offs necessary for managing environmental resources sustainably. In the adoption and promotion of the Nexus Approach, the focus is on implementation, including addressing data gaps. In particular, there is a focus on developing regional cooperation to improve mutual understanding and facilitate political buy-in. Robust links between scientific research and policymaking provide the basis for coping with non-linearity of relationships that is founded in formal as well as informal governance structures.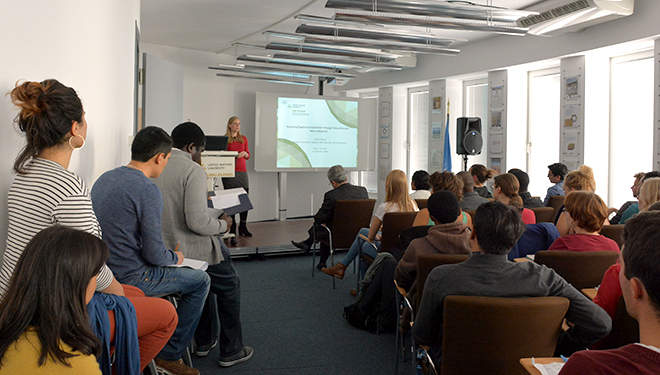 Addressing a full house at the seminar, Meyer emphasised the importance of regional cooperation. She made the case that regional cooperation helps increase understanding of nexus linkages, interdependencies between resources and sectors and policy processes, build trust between researchers and policymakers, and provides a forum for dialogue, mutual learning, and cooperative problem-solving, among other things. All this contributes towards defining a common goal that is not based on the traditional unidirectional perception of science informing or advising policymakers.
The science-policy interface is about finding means to make science and data generated accessible to decision-makers and involving the latter early on in the process. In the words of Smajgl and Ward (2013), it is the:
"…provision of a framework for effectively designing a learning exercise to assist decision makers to make evidence-based decisions and manage competing sectoral goals to realise desired, sustainable futures."
Meyer went on to illustrate two cases in point where UNU-FLORES has embarked in promoting regional cooperation in Africa and Asia, which later sparked a lively discussion during the Question & Answer session. She emphasised that cooperation frameworks take several years to be established, but serve as a more sustainable model in bridging the gap between science and policy in the long-term. This involves working with strategic partners, such as UN-Habitat and Technische Universität Dresden in this case, who can support capacity development and implementation efforts. By focussing on the process of how regional cooperation for nexus research is achieved, it becomes possible to take advantage of strengths located in the science and policy domains alike.
Ultimately, transdisciplinary methods – learning-by-doing, an iterative, reflexive and open process – support the development of bringing science beyond the laboratory and into the policy realm where the full potential of its solutions is realised. Policy-relevant research for the UN system, especially as we strive for Agenda 2030, certainly needs follow-through so that it does not stay, in the words of UNU-FLORES Director Reza Ardakanian as he concluded the session, "at best a good paper published in a good journal, not solving the real problem".
Reference
Smajgl, A., and J. Ward. 2013. "A framework to bridge science and policy in complex decision making arenas." Futures 52:52–58.